As most of you know, I am with child. With third child, to be exact. I've shared why I adore being pregnant, but totally forgot one of the most entertaining aspects: the post-baby-doctor-visit-summary with my Dad.
Some may say education or sarcasm is my life's work. Some would be wrong. If I am not harassing my Dad by spilling embarrassing details about my personal life on this here blog, I am spilling them face-to-face, often times over Sunday Family Dinner. We're close-knit like that.
For instance, yesterday at my doctor appointment, in addition to hearing the little nugget's heartbeat, I was the proud recipient of a surprise Pap Smear. Good times.
So as I'm prodded with what feels like a Magic Eraser stuck to the end of a yard stick, the kind doc takes a look-see all up in my bidness and says, I kid you not, "You have a beautiful cervix."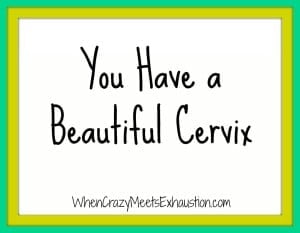 That's just odd. Like when my mom says she bought a "beautiful cut of beef" or just blanched some "gorgeous string beans." No. Those adjectives and nouns do not go together. A bloody piece of cow carcass can't be beautiful. It just can't. String beans can be very green. Or flavorful or fresh. But gorgeous? Me thinks not.
The same can be said for the cervix. It can be "doing a great job" or "very efficient at opening as to birth a small human," but beautiful? Rock on, doc; all I cared about was that it afforded the priceless opportunity to send my dad text messages like this:
Heard the baby's heartbeat! It was loud and strong! Due date changed to April 10th. I have a beautiful cervix.
I imagined his reaction was something of a disgusted grumble and, if my mom were in the same room, a "Jesus Christ, Louise. Your daughter is doing it again!"
That's right pals, I have long been a fan of regaling my father with tales from the gynecologist for as long as I can remember. He embarrassed me in front of every.boyfriend.I.ever.had, so this just feels right. I have been known to detail the process of losing my mucus plug when pregnant with my son, and, after a successful VBAC with my daughter, I made it very clear just how annoying those hemorrhoids were.
The experts say fathers and daughters have a special bond. I totally agree.