While chasing our toddlers from the onslaught of crashing waves, my husband casually remarked how footprints in the sand are here one minute and gone the next, erased forever by the gritty salt water. He wondered, naturally, if any of his footprints would stand the test of time. His musings had great potential for inspirational conversation, but instead, I laughed. Were those thoughts from the depths of his soul or the dregs of his Corona bottle?
I guess parenthood changes the way a person sees things. Beach vacations turn from calm to chaotic, and our sense of self suddenly comes under scrutiny. Like my husband, I've been having my own deep thoughts lately. About shoes. Fun Shoes, to be exact.
Fun shoes, (/fən/ SHo͞os/) Noun: footwear which serves the sole (get it?) purpose of looking good. Comfort and functionality are rarely considered when purchasing fun shoes.
These days, when I buy a new pair of kicks, it's usually because flip-flop season is over or my slippers have finally waved the white flag, collapsing in defeat beneath our illicit outdoor excursions. C'mon, guys, one more run to the mailbox! I'm no longer looking for heels that make my legs look longer or a variety of colors; now, the goal is a pair I can slip on quickly, and if they don't make my feet smell like road kill baking in the noon sun, that's a bonus. I'm not proud to admit it, but my last purchase was sweater clogs, the anti-fun, sure to make your tootsies reek shoe.
*Hangs head in shame*
On a mission to toss the furry footwear, I've been searching for the perfect fall boot. I even joined websites that claim to take my personal style into consideration and offer suggestions that match my personality and budget. Fabulous!
Except that they are LIARS.
I took the personality assessments, I voted yay or nay for various styles, and I admitted I'm more casual than I used to be (homeless chic wasn't an option), yet the results did not quite match my needs. Proof:
What in the ever loving nutterbutter is that? Kimora Lee Simmons can suck it. I double-dog dare her to balance in those things while chasing bare bottomed children or drawing chalk towns on her driveway. Bring it, Kimora.
I'm a kinda-sorta young mom who wants to look fashionable, but I'm not trying to break an ankle in the process. Nor am I trying to give the impression that I am for sale. So the search continued.
I thought a wedge would be more suitable.
I thought wrong.
You kiddin' me, Jessica Simpson? That's not a wedge. That's a block. A block that someone wants me to drop $100 for and then tie to my foot and pretend like my toes aren't screaming with every step. Hell to the no.
I became alarmed at the idea that I would never, ever find the perfect fall boot. I became hysterical at the reason why: I'm not 21 any more. Obviously, I know this, but I didn't really know it, ya know? It's like, when I had kids, time stood still for me and only moved for them: their monthly photo shoots, their milestones, their birthdays. Their first hair cuts, vacations, trips to the museum. Then all of a sudden, they're feeding themselves breakfast at their own little table and I'm left trimming my split ends and wondering where these lines on my forehead came from.
This isn't about the boots (well, maybe just a little) or age (I don't think…). It's about bringing myself up to speed, into the present. I'm not the gal in the low-rise jeans or itty-bitty T-shirts any more, so why am I hanging on to these things?! If my butt crack is exposed while bending over to wipe a small person's nose, that's a no-go. And all those suits and heels? I HAVE WORKED FROM HOME FOR SIX YEARS! It wasn't realistic to keep the old and look for more of the same; the old doesn't fit figuratively or literally, and I'm not the same, so why was I forcing a square peg in a round hole?
Inspired by this belated realization, I went all Tasmanian Devil in my closet. When I was done, I had donated seven 39-gallon lawn and leaf bags worth of clothes and shoes to a local charity. My husband, surprised by The Great Purge, took one look at my sparse wardrobe and commented how bare my closet looks. I don't feel bare; in fact, I feel lighter, better. I let go of a lot more than things when I bagged up all those shoes and sweaters. My search for the perfect fall boot turned into a discovery of me, and I kinda like the right now me.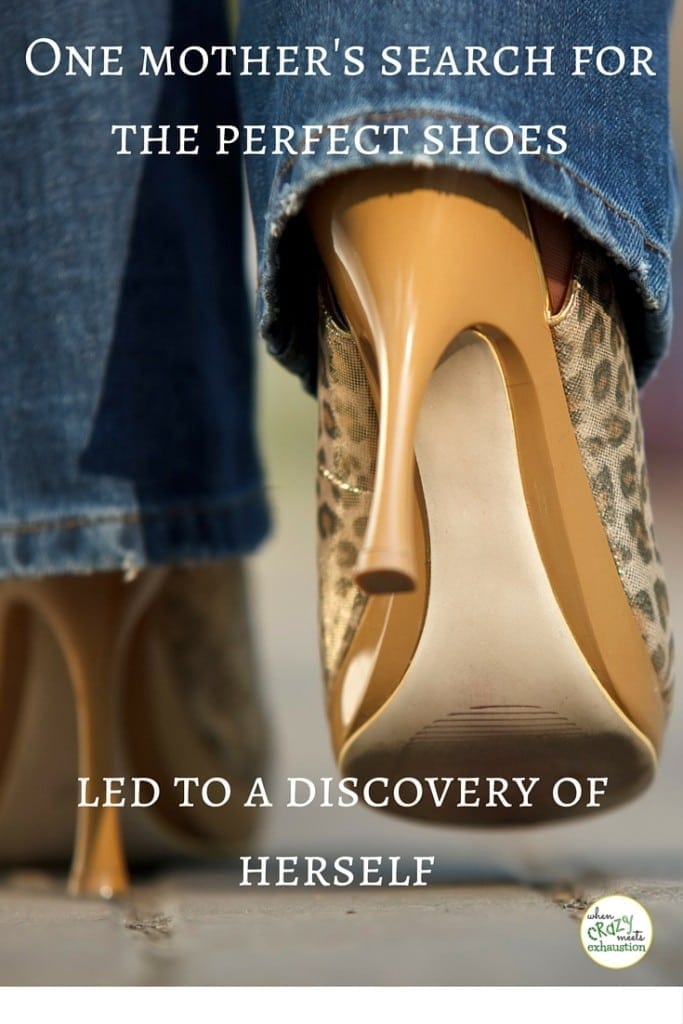 Photo credits: