The year was 2009. I had given birth to my blue-eyed baby boy and was contemplating returning to the classroom full-time. The thought of leaving my little angel (and of having to shower before 6am) was daunting, so during an early morning feeding, I Googled "teach from home" and was surprised that there was actually an option to do just that.
Fast forward almost four years and here I am, a full-time-work-from-home-mommy-teacher. On paper, the gig is amaze balls: I make my own schedule and earn a paycheck AND get to hang with my kids. Perfection, right? If you were any more wrong you would be Representative Todd Akin talking about how babies are made.
I don't know if the following would have changed my mind and sent me running back to a traditional classroom, but it sure would have been nice to have a heads up:
1. My home office, on which I spent countless hours and dollars decorating and organizing, is a joke. Floor to ceiling shelves? For what? This is clearly my office: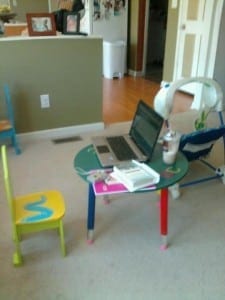 2. The basket of quiet toys intended to keep the kids quiet during meetings and conference calls was interpreted as a challenge. I anticipate the banging of wooden puzzle pieces together will soon replace the traditional pots and pans on New Years Eve.
3.  No one believes I actually work. My mom calls 46 times a day and always begins the conversation with, "Are you busy?" Nope. Not at all. Just pretending to be employed while simultaneously building a Lego bridge as per usual.
4. Working at home creates twice the clutter at twice the speed. This one seems like a no-brainer now, but when I signed up to be a WAHM, I envisioned I would dedicate part of my day to housework. Cute, huh? In reality, I have zero time for anything but work. Which brings me to…
5. Mommy Guilt. Oh, the guilt. Some days I would rather work in a classroom just so I don't have to look at my children's sweet faces as I tell them, "I'm sorry, Mommy can't _____ right now." Then, when I hear the kids playing make-believe at their Fisher Price laptops telling each other they're busy, it makes me want to cry.
6. He doesn't say anything because he's either too nice or fears my wrath, but I know when my husband comes home and looks around, he instantly wonders, "What the hell has she done all day?!"
7. My shoe collection is all but obsolete. I used to own a pair of shoes in every color for every occasion. I loved my shoes. I was known for my shoes. Now, I'm either rocking slippers or flip-flops, and I'm still on the sad pathetic hunt for the perfect boot.
8. Other stay at home moms constantly want to have playdates. I find it difficult to explain that I don't want to be their friend and I can't stand their kids, and this makes running into them at the supermarket a little awkward.
9. I'm constantly having to explain what it is I do:
You teach?
Yes.
From the computer?
Yes.
You don't know your students?
Not really.
Everyone should be forced to attend a school. This cyber thing isn't good for socialization.
Some of my students are in the hospital or jail, so...
1o. Personal hygiene has taken a back seat to, well, just about everything. Days go by and the caterpillar on my face, otherwise known as my eyebrows, isn't maintained and I don't realize it until it starts to grow over my eyes. There are days where I don't make it back upstairs after breakfast to brush my teeth until it's almost lunchtime. I don't remember the last time I worked out, and if I tried to think about it, I would break out in a sweat and count that as cardio.
I know I am blessed to work from home, but that doesn't mean it's an easy job. Being a parent is hard, period. Kudos to all you Moms and Dads who bust your butts for the sake of your families. Tonight, put your feet up and know that I, the teacher who will have your kids in class, appreciate your parenting efforts. Unless, of course, you're one of those craptastic parents; then I ask that you please home school your a-hole offspring.