I've previously written about how my husband enjoys embarking upon irrelevant tasks at the absolute worst times (some of my favorite examples of his nonsense have been published in Jen Mann's humor anthology I Just Want to Be Alone), particularly while I'm in labor with our babies. One of his more recent stunts was shoving an elaborate meal in his face while my bed was being broken down in preparation for me to push out our daughter. I laugh about this stuff because FUNNY. My husband's antics make for absolutely hilarious stories, and truth be told, I don't mind all that much that he finds pulling weeds of dire importance while I'm packing up half our house for vacation. Honestly, I wouldn't trust him with packing anyway.
So late last week, I made a meme about how vacation prep works in my house, and apparently in many other homes. Here she is: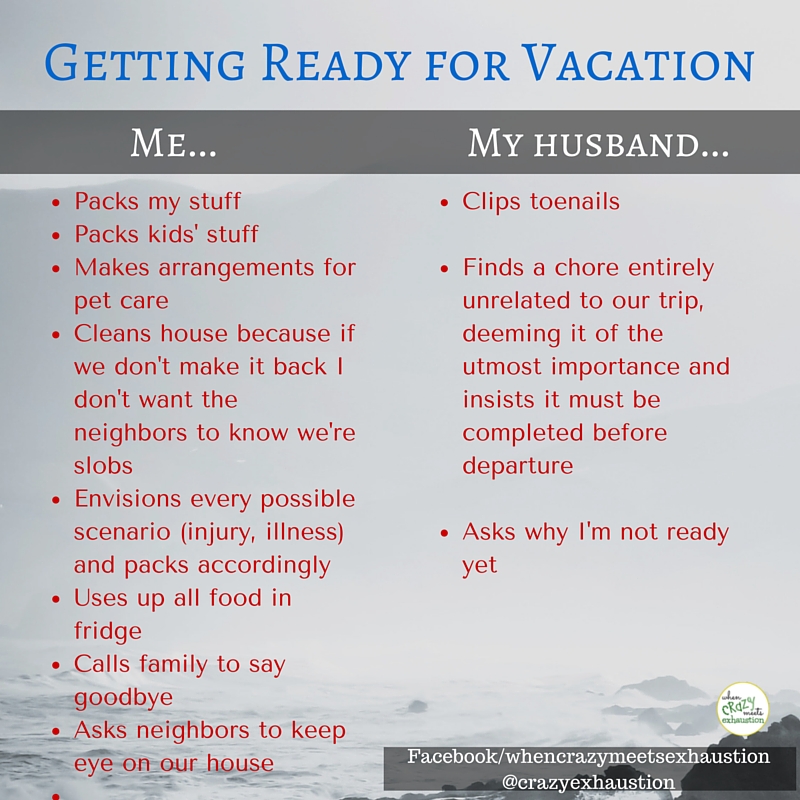 Do you know that bad boy has been seen by over 20 million people and climbing?! TWENTY MILLION PEOPLE.
I'm grateful and just wanted to document my gratitude, so THANK YOU to everyone who liked it or commented on it or shared it or who tagged their pals and significant others or who bashed it because I'M PERPETUATING GENDER INEQUALITY AND MY MARRIAGE IS DESTINED TO FAIL AND OHMYGOD HOW AWFUL IS MY HUSBAND THAT HE DOESN'T HELP FOLD UNDERWEAR FOR OUR VACATIONS?
Yes, I'm grateful for those nutjobs, too.
And for what it's worth, my marriage is cool, man. Relax.
Thank you for taking time out of your day to follow my crazy here on the blog and on Facebook. I appreciate you. That is all.