Today's Oversharer is one of my most favoritest people in the whole world. Or at least here on the Interwebs. Contributor to the momthology I Just Want to Pee Alone, creator and writer of Cloudy, With a Chance of Wine, and my go-to gal when I have questions about blogging, Dani Ryan is as sweet as she is talented. She also misplaces tampons.Which is entertaining for the rest of us.
OK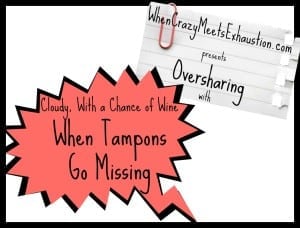 It was the summer of 1998.
I was 21-years-old.
I was halfway through my college degree.
And I couldn't find the string to my tampon.
Now, I'm sure I'm not the first woman who's gone through this, and I definitely won't be the last, but I'd like to bet very few lost tampons materialize into the craziness that I'm about to describe to you.
First of all, I have to clarify something: the tampon went missing on its own without any prompting from the outside world, if you know what I mean.
Yup.
It just kind of crawled up there by itself.
And since my mother had gone to great lengths to scare me out of using tampons because of the whole risk of Toxic Shock Syndrome, I freaked. the frak. out.
What if I died?
Luckily, I'm a pretty resourceful person, and I remembered there's a toll free number on that little insert that comes with every box of Tampax, so I brought the phone into the bathroom with me and spent far too much time talking about my vagina with a complete stranger.
Tampon Lady: Are you able to feel the string with your fingers?
Me: No.
Tampon Lady: Have you tried using 2 fingers?
Me: Yes.
Tampon Lady: Is there anyone else there who can assist you?
Me: No.
Tampon Lady: Okay, I'm going to ask you to try one more thing. Sit in a tub of warm water and try to relax your body for a while, and then tense your muscles like you're having a bowel movement. That might work.
Me: And if it doesn't?
Tampon Lady: Then I suggest you visit your doctor as soon as possible.
Two unsuccessful hours, 3 baths, and a lot of self-loathing later, I came to 2 horrible realizations:
1. I was never going to be able to pass that tampon
2. Childbirth was going to suck for me
Reluctantly, I called my doctor's office and convinced the receptionist to squeeze me in that afternoon.
And do you know what happened when I was in the office with my legs in the stirrups?
The doctor told me he couldn't find a tampon either.
And then I remembered: my period had stopped earlier that day.
Oooops.
But all was not lost.
I was right about one thing.
Childbirth did suck for me.
Have you ever lost a tampon?
Dani Ryan is a germaphobic, first-time mom who has a knack for being in the wrong place at the wrong time. She blogs all about it over on her humor blog, Cloudy, With a Chance of Wine.