I'm pretty much in love with today's Oversharer. Vikki Claflin is one funny broad, but she's also quite possibly the happiest, most optimistic writer I have ever read. Must be why everyone is gobbling her up, namely the infamous Erma Bombeck's Writers' Workshop. Vikki has flexed her writing muscles over at Erma's place several times, yet she still is kind enough to associate herself with ME. See what I mean? Optimist.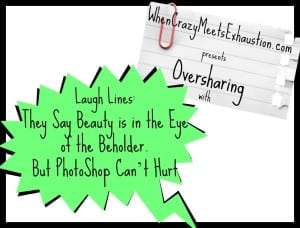 When Kenny and I were approaching our 5th wedding anniversary, he announced that he wanted to renew our vows. "It's too soon," I explained, "Nobody thinks 5 years is really a landmark." "It is to me," he replied, "I've been married twice before, and both marriages went belly up at the end of the 4th year. So to still be happily married at this point is a record for me!"
Notwithstanding the validity of that statement and the fact that it wasn't exactly a ringing endorsement of marital fortitude, I silently agreed that something celebratory was called for, so I decided to have some fun photos taken. Since Kenny loves all things retro and vintagey, I thought he'd like a series of pin-up, 1940′s-style cheesecake pics. More Rita Hayworth/Jayne Mansfield, less Playboy porn star (I was 50, after all).
I wasn't comfortable calling up the nearest local photographer (I could hear him laughing, "You want me to make you look like what??" Or, as my mother used to say, "Honey, only God can make a tree."), so I called one of my best girlfriends, who's a fabulous amateur photographer, and she immediately offered to help.
Our first task was to get some pin-up style clothing. A few calls to some girlfriends resulted in an astonishing array of costume changes that made me feel like Cher at the Forum. (Apparently vintage cheesecake has a surprisingly mass appeal to the over-50 male set. Who knew?) Next, we Googled "WWII pin-up photos" to find pics we liked that we thought I could pull off. Then we waited until Kenny was gone (working with Pam's husband, who was instructed to CALL US when Kenny left for home), and with costumes in place and Google shots on the kitchen counter, we got together at my house for our first session.
Lying on the floor on my back, legs straight up and arms overhead (classic cheesecake pose), Pam tells me to "look sexy." All attempts for me to say "Come hither" with my eyes resulted in Pam dissolving into unrestrained merriment, choking out, "You look like you need to pee. Try again!" 2 hours and a bottle of wine later, it was obvious that I'm singularly lacking in "bedroom eyes," but we carried on.
Somewhat later, we got the obviously wine-induced bright idea to use Kenny's Harley as a prop. Sort of a military-salute-on-a-motorcycle theme. The only problem was that his Harley was in our overcrowded, gray garage. Although Pam had a PhotoShop program that she was going to use to soften the backgrounds, remove shadows, and even provide a little technological nip/tuck to my shape, there were limits to what it could do. PhotoShop wasn't going to help the garage. We needed to move his bike. Into the house.
Desperately hoping the neighbors were not home, I backed my car out of the garage to get to Kenny's bike and dashed back into the house, wearing nothing but a military-style jacket, fishnets, and high heels, while Pam rolled his Harley into the living room and down the hall, into the bedroom, where the other pictures were taken. She pushed the back and I steered the front, until Kenny's beloved Gold Wing Low-Rider was snuggley parked in the master bedroom.
Two more costume changes (and another bottle of wine) later, we were having a ball. (One of my favorite shots was simply me doubled over laughing, which we put in the final series. Kenny loved it, saying "THAT'S you!)
Then the phone rang.
"Kenny's on his way," Kevin reported. "ETA, about 20 minutes." OMG. As I scrambled to change back into my yoga pants and shove all the evidence under the bed, Pam turned the Harley around and started to roll it out the door, where it got stuck. As in WEDGED into the angled doorway. As in NOT MOVING. ("Hi, honey. How was your day? And btw, your Harley is stuck in the bedroom door. Don't ask.") Watching the clock, we frantically pushed and pulled, pushed and pulled, until it shot forward like a champagne cork (with only minimal door jamb damage, which I could explain a half a dozen ways) and we wheeled it into the garage just as Kenny's truck pulled into the driveway.
Two weeks later, Pam brought over the "improved" proofs. They were FABULOUS. My legs were longer, my tummy was flatter, and my boobs were back up where the Good Lord had intended them to be. My only concern was that Kenny would take one look and ask, "Who is this??" But I proudly presented him with the framed photos on our anniversary, and he was delighted. (God, I love men over 50. They're half blind. He shows them to more people than I'm quite comfortable with, but at least I'm not in a bikini. Yeah, that would be embarrassing.)
Then a family member saw them a few weeks later, took a long look and announced, "Wow, someone PhotoShopped the crap out of these, eh?" Well, ouch. What the hell. At least years from now, when I'm dead and gone, my grandchildren will find (the pictures) and say, "Grandma was hot."
***********************************
"Vikki Claflin is an author, humor blogger, public speaker, and former newspaper columnist. She is featured in "Life Well Blogged, Parenting Gag Reel," available at Amazon.com. Vikki writes, in hilarious sit-com style, about middle age, modern marriage, and her epic fails. She unabashedly shares with us her most embarrassing moments, and laughs as hard as we do!"
Blog:  Laugh Lines 
Facebook:  https://facebook.com/laughlinesblog
Twitter:  http://twitter.com/vikkiclaflin
This story was first published on Laugh Lines