Pittsburgh's Mister Rogers conjures up ideals of kindness, patience, and optimism. Those of us who grew up in his Neighborhood of Make-Believe are well-versed in his lessons on sharing, friendship, and inclusivity. We all know and love him for being the every-child advocate he was. The name Fred Rogers is synonymous with a big, warm hug.
We remember him as those things because that's what we saw on television. What we didn't see was his behind-the-scenes work that truly created Mister Rogers. He was certainly a beloved role model and educator, but Fred Rogers was also
a (good) trouble-maker, refusing to accept the status quo;
a hustler, working overtime to convince others to buy what he was selling (stop it, he was selling learning methods);
maybe a freaking genius, understanding early on how technology can bridge gaps.
The man poured countless hours into child development research. He invested time and energy into collaborations with learning scientists. He asked "why" and "how" things could be better, and then searched until he found the answers. At the root of everything he did was Fred Rogers' intention to disrupt.
Today, his approach of marrying child development and cutting edge technology–affectionately dubbed "The Fred Method"– is utilized in classrooms all over the country. Gregg Behr (founder of the Remake Learning network) and Ryan Rydzewski (former teacher) authored the new book, When You Wonder, You're Learning: Mister Rogers' Enduring Lessons for Raising Creative, Curious, Caring Kids that aims to equip educators with the necessary "tools for learning."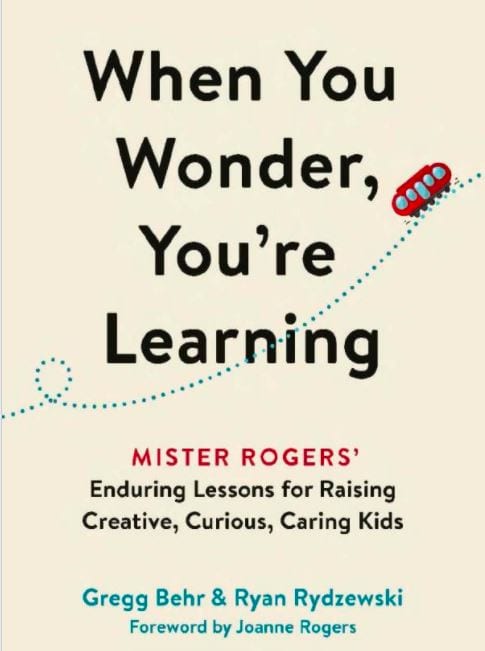 I read every page in Fred Rogers' gentle voice all the while marveling at how the science behind Mister Rogers' Neighborhood didn't seem like science at all, but a common sense and loving approach to reaching kids on their level. That man didn't believe in "other people's kids;" every child is "ours" and he treated them as such.
And as a virtual educator for the last 12 years, I can personally attest to the magnificent ways technology has provided quality learning experiences to students who wouldn't otherwise have access to them. Especially in the face of a global pandemic; if not for technology, the continuity of so much–learning, medicine, communication, production–would have come to a crashing halt.
Seems like there's something to The Fred Method. When a sincere love of children is coupled with the power of cutting edge technology and it's all thrown toward the goal of learning, there's nothing our kids can't accomplish. Here in Pittsburgh, educators are taking a page of Mister Rogers' proverbial and literal book! They've already
begun exploring…his approach…finding ways to balance disruptive innovation with equal doses of humanity, wonder, and joy.
If you, too, are passionate about kids, and committed to forward-facing, innovative ways to teach them, I suggest following these three steps:
Follow #RemakeLearning on social media.
Buy the book.
Remember: YOU are always the students' greatest resource. Teachers, caregivers, and parents set the foundation for learning, and our attitude is everything. Be the light, be the spark, be the reason a kid is willing to ask, why?
Attitudes are caught, not taught!
Feature Image