If you're a fellow SNL groupie, you remember the epic "Cowbell" skit with Will Farrell's gut and Christopher Walken. If not, let me break you off a small piece of this:
Hilarious, right?! Unfortunately, the cowbell can't cure my fever. And no, I am definitely not talking about Bieber Fever. What is up with those  ill-placed tattoos and the way he wears his hat like it's an upside down sauce pot? He's one two-step away from making his own porn.
Anyway, the fever I'm talking about is BABY FEVER. This isn't the first time I've been struck with it; remember this?
As if I'm not obsessing about it enough, babies are ev.ery.where. Facebook pictures, real-life friends, commercials, my dreams have been reminding me of the family of 5 I've wanted since I was old enough to make Barbie and Ken have the sex. I've got it all figured out, really…
I know I want another boy because that would erase the "Middle Child Syndrome" of which I am so terrified. Ella was not meant to be a middle child; the consequences could be dire. Yet I'm still willing to roll the dice. I know what the pregnancy announcement will look like; I know how I want to share the exciting news with those closest to us; I've perfected the birth announcement, complete with names for either a boy or girl. I have visions of sugar plums and this must-have photo dancing in my deranged mind: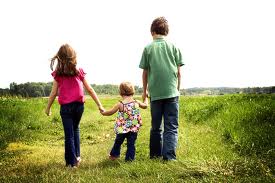 In 40 years, when I'm sixty……., I want my kids and their kids on all sides of me, turning me into a veritable island o' grandma. We'll gather for Christmas, Thanksgiving, birthdays! I'll babysit and they'll love me because I make stories jump off of the page, bake the yummiest cookies, and let them stay up a little later than their mom and dad. I'll be able to give them my undivided attention because I'll have been retired since forever, and I'll also be able to give them back to their parents when they're annoying. And it will be glorious!
Except that to accomplish all that jazz, I have to create, grow, birth, and raise a third kid.
Can I handle it?
My husband claims his sperm is like Cinderella's chariot; there is a definite expiration date and it's when he turns 35. He is currently 34, so…
Is it go time?
We understand a third could be a game-changer. Will the grandparents still give us a rare date night and watch all THREE kids? If we win a trip to Disney Land by calling into our local radio station, will we have to purchase a fifth ticket or leave one of the ankle-biters behind?! Isn't the world just made to accommodate families of four, 2 adults, 2 kids? Roller coasters, double-strollers, most cars only have room for FOUR. Should that sway me?
But I like to name things. I don't worry about money because that would force me to be realistic and that's a downer. All I know is that there were, like, 7 kids to a family during the Great Depression, so we can afford a third, right?! We have the room and I'm young enough that I still have the energy. If the girl is 3, the boy is 5, and the baby is a newborn, I'll hypothetically only have one kid in diapers, yes? So this should be a no-brainer.
Have I convinced you yet?
I miss being pregnant and I just don't feel…done. Does that make sense? This whole post is a rambling session; NONE of it probably makes sense! Five minutes after I had Ella, I looked at my husband and said, "I can do this again." That means something, right?!
I guess I just need someone to make up my mind for me. The husband's, too. We're on the fence these days, but words from a dear friend keep forcing their way into the forefront of my mind: You may regret not having another, but you will never regret having another.
She may have been drinking when she shared that. I don't know.