My brother can't hold his sugar. His beer is one thing, but sweets? Not so much. I'll never forget the Halloween that ended in his night terror that woke the whole house. He was shrieking at the top of his lungs that a Snickers bar with a knife was chasing him. He was screaming and sweating, and his face was stained with tears. As I watched from my spot on the stairs, I remember thinking: "Dude is crazy. Gimme a Kit Kat."
As a parent, I have been on the receiving end of my son's night terrors, and they are just that: terrifying. Sometimes, I'll walk into my little man's room and he's standing on his bed, hugging himself, begging some unknown entity to let him stay home: "But I don't want to go! Please let me stay!" Freaky, right?
I wish night terrors were the most horrifying of all parental experiences, but alas, they are just the beginning.
Asking where babies come from? EEEK!
Learning to drive? Petrifying!
Going to college? Ulcer-inducing!
I constantly pray for my kids' health and happiness, and my fingers are crossed that, some day soon, they will learn to wipe their own butts. These things are just the tip of the iceberg. Truly terrifying takes on a whole new meaning when it comes to Common Core Math…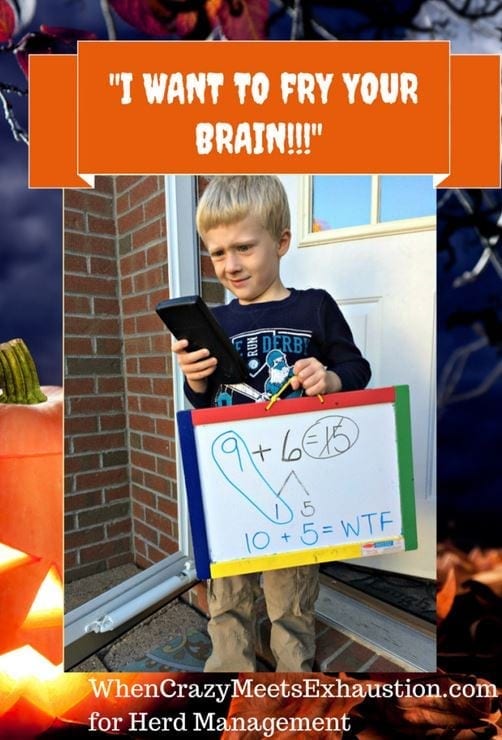 For more post-childbearing horrors in costume form, click the photo above or HERE to be magically transported to Herd Management, where Dr. Frankenstein, AKA: Jessica, is sharing 14 photos that will send chills down your spine and you running for the liquor cabinet.