Originally published in March 2013
It's no secret 'round these parts that my uterus is jonesing for a little company. Lately, new things have factored into the matter:
My 20-month old has learned to hold my iPhone without her chubby thumbs getting in the way. You heard it here first: she'll be Valedictorian of her class.
My 3.5 year-old son is already an accomplished mathematician:
"Mom, you wiped my bum two times when I pooped after breakfast,  and then two more times when I pooped after school. That's FOUR wipes!"
What was Einstein doing before he was four?
So, yeah, my babies are growing up.
*Sob*
I think my husband is starting to feel the affects of his ticking biological clock (is there such a thing?). The other day he kept chasing after the kids, yelling, "I'm gonna scoop ya!" When I asked what the heck he was doing, he replied, "I have to hug them as much as I can now. These days won't last forever."
Awwww-ing because of the sweetness? Me, too. And I'm using it to my advantage.
You guys, I think I have him right where I want him: he's feeling a little sentimental, a little tired, and probably more than a little frisky since today is Saturday, as in Stephanie Shaves on Saturdays. Friends, I think it's safe to say GAME ON.
Now if only I can convince the husband to pull the goalie.
Ride bareback.
Take a hint from Phil Collins' album No Jacket Required.
With some careful planning, I think I may be able to seduce him. And because I care, I'm sharing my infinite wisdom…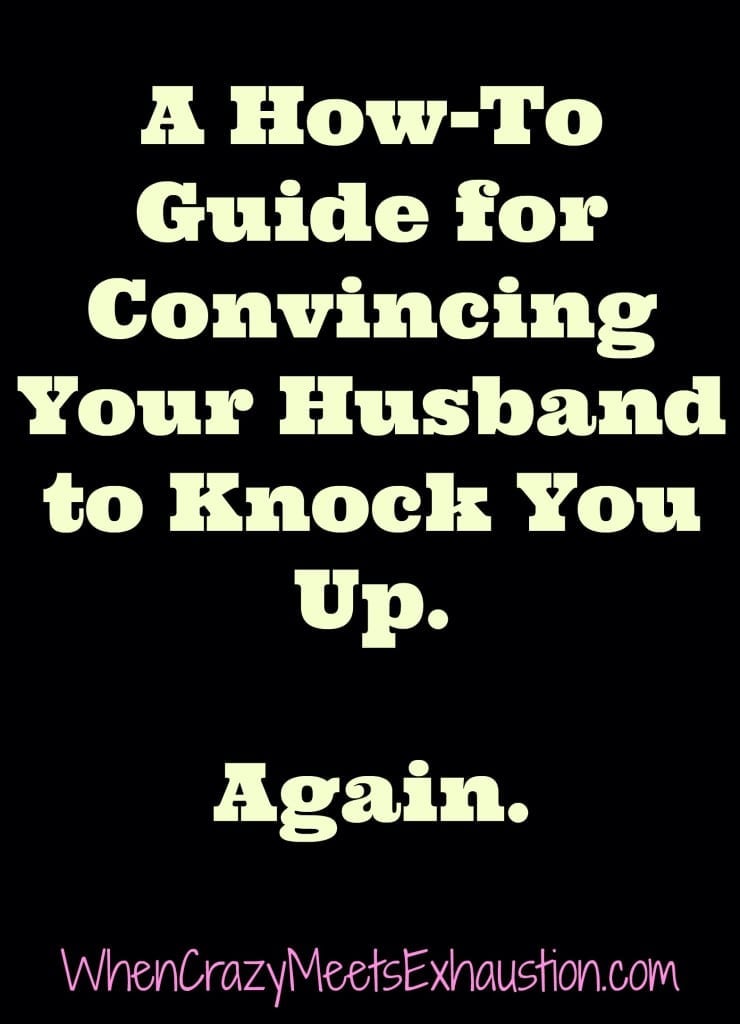 1. Hide your granny panties for the duration.
2. Resist the urge to impress the children and muffle all belches. (Side note: once knocked up, excessive gas is acceptable. Shatter the windows, friend.)
3. Stop providing play-by-play narration of your menstrual cycle. Conceiving is hard work, but don't tell the husband that! You know what they say, sperm don't perform under pressure. I actually don't know anyone who says that, but it seems like common sense.
4. Cook more some at least once a week.
5. Rather than launch into what was awesome or crappy about your day, ask how HIS day was. Handing him a beer as you pretend to listen earns you bonus points.
6. Fancy up your attire by swapping between the Old Navy hoodie and that sweater/jacket/robe you bought last year on clearance from Target. Variety is the spice blahblahblah.
7. Compliment him:
Have you been working out? Your pecs look incredible!
I noticed you didn't load your hamburger with extra onions–thank you for being so considerate!
8. Send him subliminal YouKnowYouWantAnotherBaby messages by strategically placing the kids' baby pictures in his line of vision: on his steering wheel, next to the remote control, on the toilet…
9. Say YES more.
Can I golf today? 
    Of course!
Want to watch Liam Neeson's special set of skills in Taken for the 34th time?
    I sure do!
My mother thinks you should starch my shirts, don't you agree?
    Abso-friggin-lutely.
10. Send him sexy e-mails at work to get him in the mood:
My teeth are brushed, my upper lip is waxed, and we're all excited to see you tonight.
Follow these guidelines and you should be knocked up within the month. The proof is in the puddin', friends:
July 2014 Update:
It worked for me!!