Know what I hate? Talking on the phone. Text me, email me, knock on my front door (after you've texted or emailed that you'll be knocking on my front door), but for the love of everything holy–if you can avoid calling me, DO IT! It's not that I don't care about you–I do!–it's just that I don't like tele and cellular small talk, but that's just how phone calls work. Common courtesy dictates we have to ask about the kids, recent ailments, and new job prospects when all we really want to do is be like, "Can you email me that recipe for rum fudge cookies? Thanks, bye." Give me face-to-face convo and I'll chat you up about whatever floats your boat all the live long day, but if you love me, you won't call.
If you have kids, you know what Parent On the Phone does to them: everyone needs everything IMMEDIATELY. The sippy cup won't refill itself, and that Common Core math nightmare surely won't solve itself either. There is a pressing question that simply cannot wait to be asked, namely: "What channel is Bubble Guppies on again?" Also, phone time is normally when my kids start drop-kicking each other in the face, which is generally why I try to avoid speaking words into a little machine.
Sweet, short, and to the point is how I like my phone calls and I don't care what social norms say! *shakes fist at sky*
I think that's why I dig Twitter so much. It's concise and it doesn't require too much socializing; you just put something out there, Retweet your faves, and call it a day. Or maybe that's just how I misuse it because I'm rude? I must be doing something right, though, because my snark and toddler conversations caught the attention of Twitter genius Kate Hall, and creative duo Norine and Jess over at Science of Parenthood, and they slapped me in their new book, The Big Book of Parenting Tweets! I mean, I'm pretty impressed with me right now, so I figured my kids would be, too. And because they came to blows when the phone rang yesterday, I thought it only fair for them to earn their keep and interview their famous* mom.
*The definition of Famous is up for interpretation. What I consider famous, my children call "play pretend."  It's really a matter of semantics.
Interviewing Their Famous Parent, AKA: Not Their Dad
by: The Boy & The Girl
Me: Okay! I'm ready! Hit me with your best questions!
Awkward silence leads to blank stares. I get the party started with: Did you guys know Mommy is in a new book?!
Kids: …..
Showing them the book: Here it is!
The Girl: BIRDIES!
The Boy: You're in a book about birds? We don't even have birds.
Me: I'm so glad you asked! It's The Big Book of Parenting Tweets and it's written for and by parents.
The Girl: Can I have a snack?
Me: Why yes snacks ARE mentioned in our book! So many topics relevant to the highs and lows (mostly lows) of parenting are in this book somewhere. It's not a "I had kids just to complain about them constantly" type of book, in case you haters, uh, I mean kiddos were wondering. It's more of a hilarious observations whilst in the trenches type of book. Basically, if you want to laugh, you NEED The Big Book of Parenting Tweets!
The Boy: Have you seen my football? It's the brown one.
Me: Only questions about the book, please!
The Girl: Why isn't it pink?
Me: Well, Twitter is blue and–
The Boy: It should've been orange. Or red. I like red.
The Girl: I wish it had sparkles. Don't forget to tell Santa I want a pink sparkly dress for Christmas. I like crowns, too.
Me: Book. Let's focus on Mommy's book.
Both kids literally focus on the book, staring like something is going to pop out of the pages and attack them.
Me: I mean let's talk about Mommy's book. What other questions do you have?
The Girl: Are there pictures?
Me: Excellent question! YES!
Flips through pages to show pictures.
The Girl: Is that Amelia Bedelia?
Me: No…But a few of the funny things you say are included in the book! Here's one: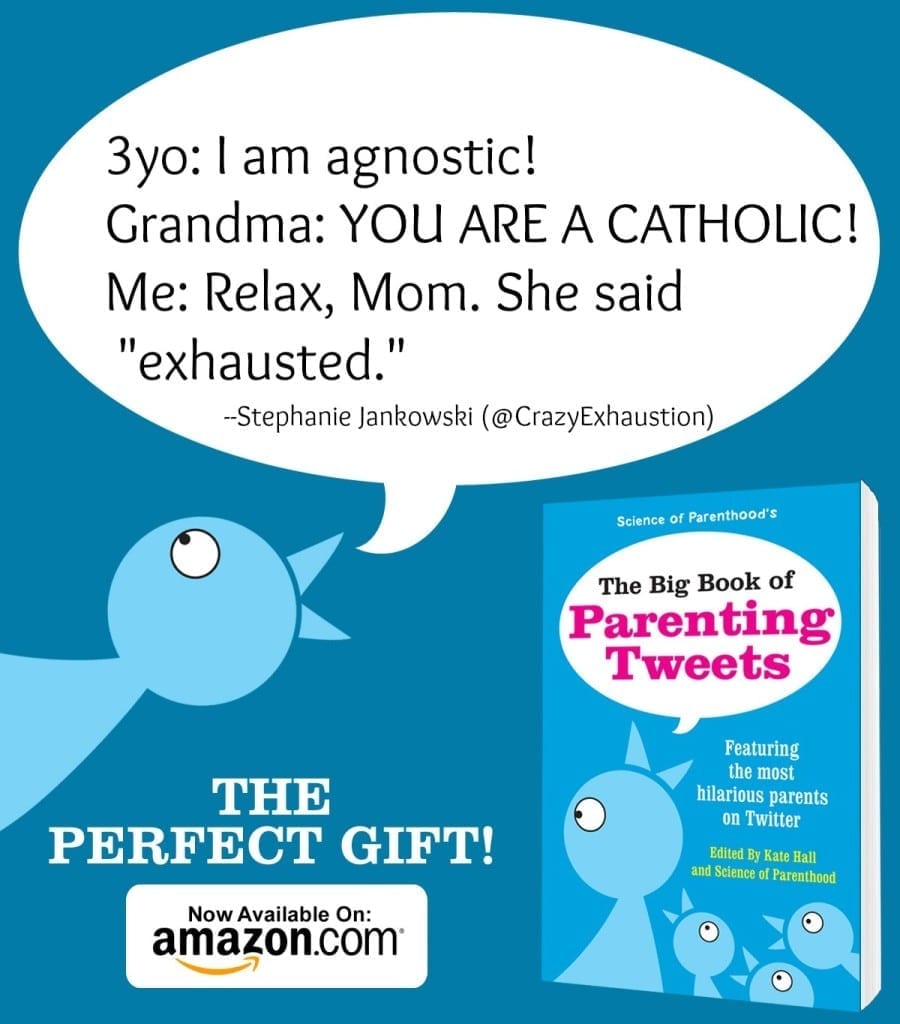 The Girl: That's hilarious!
Me: I think so, too.
We agree that YOU will think so, too! If you don't believe me, just ask Jen Mann, creator and pseudo violent parent of People I Want to Punch in the Throat: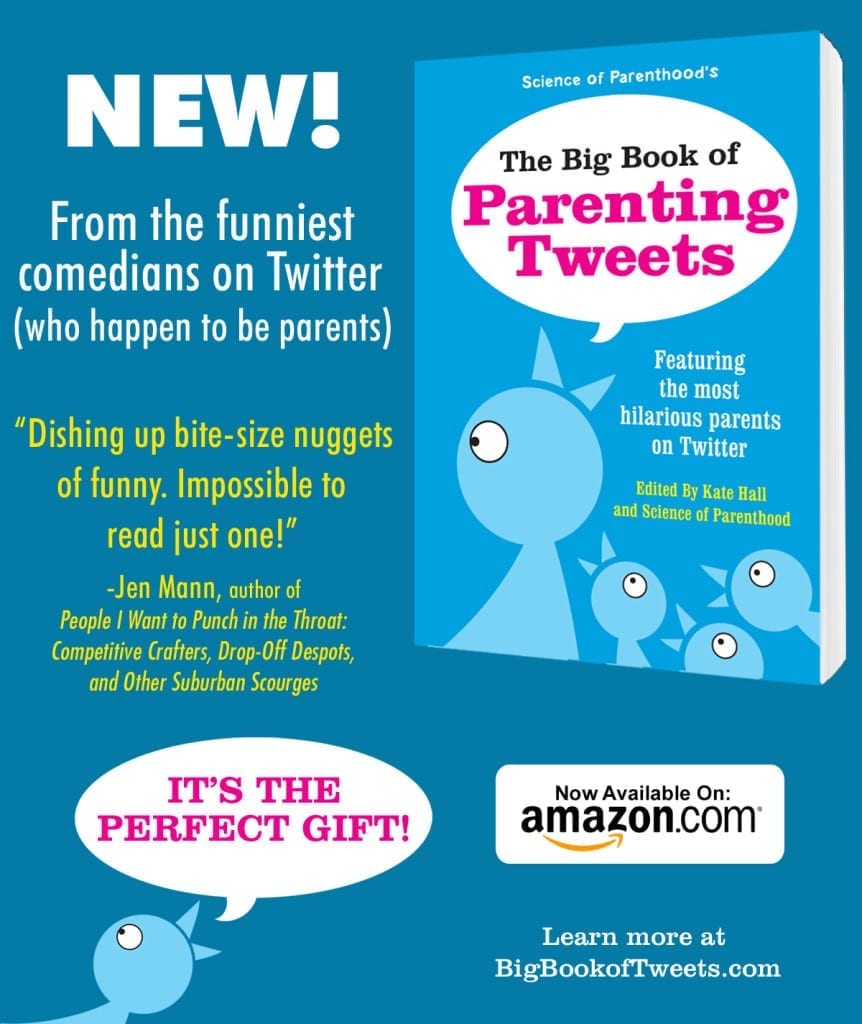 Get your copy of The Big Book of Parenting Tweets TODAY! Seriously, hurry up. It's already December and you know you need gift ideas.
For more info and hilarious snippets from our book, check out the Big Book of Tweets Website: http://bigbookoftweets.com