Oh, hey. I don't write much any more because KIDS and also KIDS.
My crew is busy with a capital B (also expensive with a capital E…why don't the baby books prepare us for the cost of a 14-year-old boy's giant shoes?!), but I've come across a writing opportunity to make a little money by sharing ideas I generally agree with, and while some may say that's a sell-out, I say it's me trying to pay for those big ass shoes.
So, welcome to a (paid) trip down memory lane! Let us recall when our 14-year-olds were but a soccer playing fetus, kicking us nightly in the bladder. Or, if you're among my younger readers, maybe you have a baby belly right now and if so, can I please snuggle it?! I miss being pregnant SO MUCH. Honestly, I do. I miss basking in the excitement of being a soon-to-be mother (thrice). I totally understand not everyone feels the same, so here are some ways to bring a little happy to a maybe not so wonderful pregnancy. After all, research claims cheerful expectant mothers are likelier to have healthy kids. Who knows if that's legit, but if we can spoil ourselves a little, I say go for it!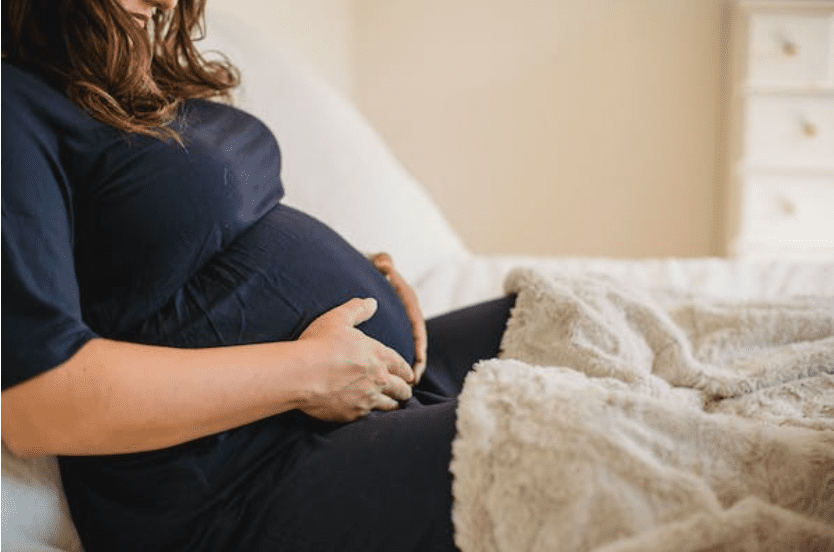 When everything is planned and ready, you can have the baby shower of your dreams. This occasion is a great opportunity to celebrate your new baby with all your closest families and friends and can be a lot of fun. Some people prefer to postpone their baby shower until they are about ready to bring their little ones into the world. If this is not how you picture this iconic event, you may also plan it earlier in your pregnancy. Seven months is still a good time to host your baby shower – although some people may feel that it's quite early. Steph's note: please ask people to help you. They want to help. They want to shower you (see what I did there?) with love. 
Take care and pamper yourself
Talk to your stomach, decorate your abdomen with lead-free henna or nontoxic paints, get some extra sleep, or practice lost hobbies. Pick up a book you meant to read, watch a movie you are interested in, go to the spa, or listen to calming music. Your unborn baby is very aware and interested in the outside world, so take advantage of this. You can also engage in gardening and watching plants develop while your child grows inside you. Watering, weeding, talking to the plants, and other activities are delightful. Steph's note: Nap. Then nap again. Then nap some more. 
During a pregnancy, hormones might become erratic. Maintaining a good effect on your body and mind is critical to be happy. What could be better than taking a yoga or aerobic class? A group exercise will allow you to create a social circle while keeping you physically and mentally fit. Prenatal yoga, swimming, and aqua aerobics are just a few exercises you should perform before having your kid. However, returning to your regular workout routine will take a few months after the pregnancy, so keep this in mind. Steph's note: stay as active as possible. Your pelvic floor and hip flexors will thank you.
Have a babymoon or date night
While you may miss your ME time after having a baby, you will equally miss hanging out with your partner for quite some time. When the baby is born, you will notice that all you talk about is the baby. But your relationship is important, too, so make it a point to organize date nights. You don't have to spend a fortune; you don't have to spend anything! Spend the day in bed, take a picnic lunch to the park, beg your partner to rub your cankles. Free possibilities are endless. Steph's note: the cankles part was my note.               
Treat yourself to your cravings
Eating a tranquil lunch will be a dream once your baby arrives. While you wait for your bundle of joy, fulfill your hunger desires and feast on your favorite foods and snacks. Your early pregnancy symptoms may not be favorable, but after you reach your second and third trimesters, you may experience a surge in food cravings. Do not dismiss them. Pay attention to your taste buds and savor those mouthwatering treats. Steph's note: with my first-born, I craved oranges. With my second-born, I craved cereal. With my third-born, I craved raisin-filled cookies. Dig in!
Start looking for baby names
THIS IS SO FUN! This is also SO OVERWHELMING! Searching for some of the sweetest names you can call your little one can hurt your brain. There are millions of options and many materials to sift through. Start that research and conversation early, though; do not wait until the last minute and stress yourself unnecessarily. These creative birth announcement ideas will help you inform your family and friends about your decision if you find one. Steph's note: if you do a reveal, either for the name or gender, please don't be dumb about it. Consider the impact on the environment, your location, your audience (be sensitive–not everyone is as lucky to have a reveal party), and what's in your budget. 
Make sure you satisfy your shopping desires. For instance, you can pamper yourself with some nice pregnancy clothing or consider altering the furnishings in your home. You can also shop for your new baby's clothing, toys, carriers, etc. As a tip, go shopping with your female friends or sisters. It is one of the most effective treatments for women, so feel free to consider this. Steph's note: I used to love lazily browsing the shelves for baby clothes and maternity clothes. I feel like much of that is done online now, but there's something sweetly satisfying about walking up and down the aisles, touching and holding these exciting items. Highly recommend an in-person trip if you can swing it.
Make photographic memories

 
A pregnancy scrapbook album often covers your pregnancy, from the day you discovered it until your baby is delivered.  Keep all your memories of telling your spouse about the pregnancy, buying items for the baby, constructing the baby cot, and decorating the nursery. Embellish your pregnancy scrapbook with unique items like messages and images. You can preserve the memories for you as long as you want and treasure them anytime. Steph's note: if you're not a scrapbooking kinda gal, use one of the many apps or websites to turn your memories into a book. GREAT gift idea for the grandparents, too!
Spend quality time with your mother and mother-in-law
Pregnancy is an exciting time to reconnect and bond with your mother and mother-in-law. Take them out to lunch or supper and discuss pregnancy and parenthood. You might inquire about their pregnancy experience and look for birthing ideas. Show your appreciation by sending them a thank-you gift ahead of time. Steph's note: If you're lucky enough to have one or both by your side (and you like them, of course), take advantage of that time together.
Make the most of your next hair appointment 
Obviously steer clear of any harmful dyes or colors, but go the extra mile with the cut and style. Can a girl get a scalp massage? DO IT.
Dance when you feel like it
It is worth noting that newborns enjoy music, making them feel groovy. But you should also know that music and dancing are excellent for you. Moving your body puts you in a good mood. Whether it's Glee, Led Zeppelin, or Beyoncé, get nuts any way that feels right. Steph's note: listen to your body; if it's telling you now is not the right time to drop it like it's hot, don't push it.
Decorate and organize your baby's room
Going through the baby's room and organizing everything is one of the nice things to do before your due date. Adding personality and color to your baby's room with artwork wall decals, unique light shades, and portraits is so fun! Steph's note: OMGEEEEEE. I freaking loved getting lost in my baby's room. I would fold and refold clothes just because I could. Sounds strange, but I definitely felt serene and connected to my baby when in their nursery. 
I am well beyond the years of decorating a baby's room or pampering myself, though I do wish I would've held onto just one pair of maternity pants. Learn from my mistakes: keep one pair, Mama. You'll thank me later.