If you know anything about me, it's that I. LOVE. BABIES. Rarely a day goes by that I don't ache for the swell of my pregnant belly; I'm the lady in the grocery store staring longingly at your baby bump with grateful tears in her eyes. I understand if you want to move over a lane. My wandering eyes are a little creepy…
Aaaaanyway, let's celebrate all things baby, mmmkay? My pals at Sampler are throwing quite the shindig and you're all invited! Not pregnant? Don't wanna be pregnant? Babies + you = no thanks? No problem. You can still participate for a friend, and after Blizzard Jonas, you know there's a baby boom coming this spring!
I'll shut up and get to the good stuff. Here's what you need to know:
What is Sampler?
Sampler allows you to send product samples to friends, and if you "buddy up," you'll get product samples, too.
Upon registering, a calendar will be sent to you. That calendar tells you the EXACT times (EST), day, & which company is launching samples. Set reminders on your phone, have your mom call to remind you, write a reminder on your hand–do whatever you've gotta do to remember to go to their Facebook page so you can follow the link to the samples.
Easy peasy, right?
RSVP TO WIN
When you sign up for the Ultimate Online Baby Shower, you will be automatically entered into a contest that is held at the end of our week-long event. The grand prize is a gift basket full of prizes for one lucky fan! But you MUST RSVP TO PARTICIPATE IN THE ENTIRE EVENT. You won't be sorry; there are fantastic brands participating in our baby shower (see below).
RSVP by clicking HERE or on the image below.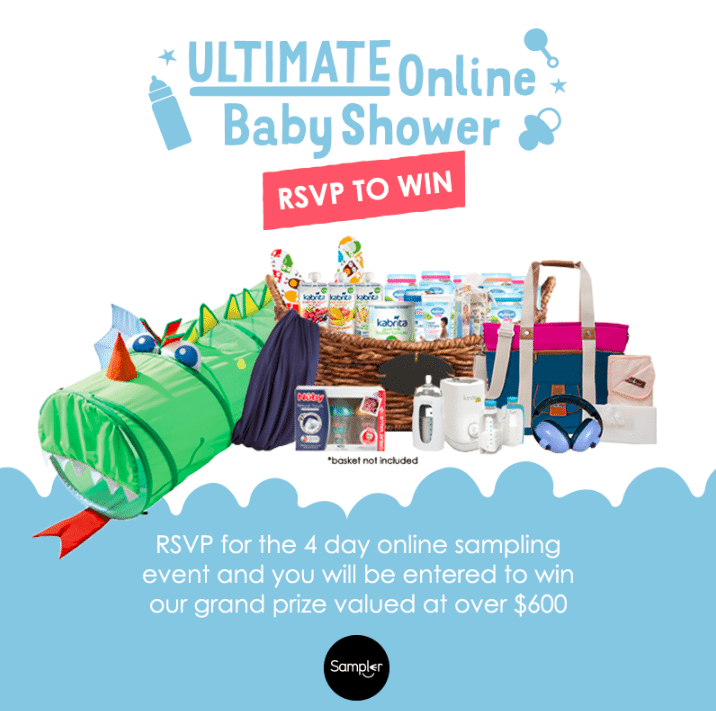 Because nothing is more fun than SURPRISES, we're also hosting flash giveaways on Facebook from February 1 – 4. February just got a lot better, eh?
To make the most of your entries, be sure to watch my Facebook page (we have fun over there–you'll love it), and the other participating bloggers:
Club MomMe
We're Parents
ConservaMom
Mommy Knows What's Best
Mommy's Favorite Things
Big thanks to these great brands for making our Ultimate Online Baby Shower such an exciting event:
I just love saying that. Designer and CEO, Melanie Herschorn, understands our "girls" need to breathe in between pumping and nursing. Melanie hasn't sacrificed style for function; her soft fabrics and clean lines make our milky fun bags look goooood! I hope the nursing tents I used to wear will learn a thing or two from Udderly Hot Mama…
By Moms. For Moms. Pure 'n' Clean. Dapple Baby founders, Tamar and Dana, are on a mission to make moms' busy lives easier by delivering a quick, effective, and pure clean. They've chosen the plant-based ingredients that pack the mightiest punch. Your dishes and bottles are in for it! (So are your surfaces, laundry, and messy faces–Dapple makes'em all!)
Click HERE for a direct link to the event!
From the first little toofer (I'm not the only one who says it that way, am I?), to the first time he brushes his own teeth, Baby Buddy doesn't miss a beat. Or a tooth, as it were. My dental hygenist mom squee'd when she read Baby Buddy's tagline of "Nurturing a Lifetime of Oral Care From the Start." She's obviously a fan. So is my 20-month-old, who asks to "bush, bush, peeeeeaze!" approximately 35 times a day.
Click HERE for a direct link to the event!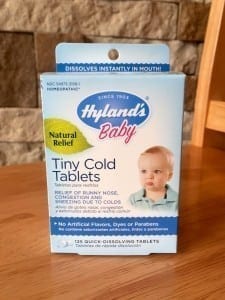 Oh, hey cold and cough season. Thanks for making babies miserable. BOOOOOOOOO! Fortunately, a homeopathic option is available to our tiny tots in the form of Hyland's Tiny Cold Tablets. For relief of constant runny noses that inevitably get mixed in with baby's applesauce (gag) to congestion and sneezing due to the COLD, Hyland's is here to help!
Click HERE for a direct link to the event!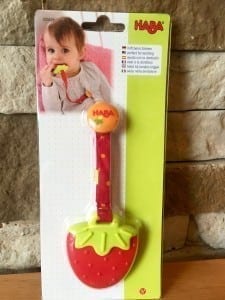 Haba prides itself on high-quality baby and children's toys. Known for their exquisite wooden toys, Haba is expanding its portfolio to include plush toys, games, and adorable teethers like this one. The convenient clip keeps the dropsies at a minimum, but they've yet to produce one that actually tastes like chocolate. Not that I've asked…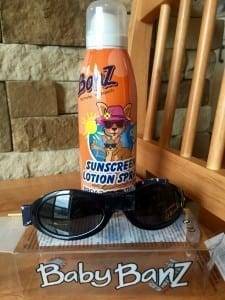 Close your eyes and imagine one of the cutest things EVER. Was it a baby in sunglasses?! If you didn't answer yes, you're just wrong. Baby Banz has protected my kids' skin from the sun, and also given me adorable photo opps with their banned sunglasses. Oh, yeah, they're great for keeping little eyes safe from UV rays and whatnot too, but SO CUTE.
Click HERE for a direct link to the event!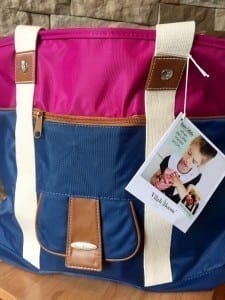 How much do I love this Vilah Bloom bag? MUCHO. See what looks like a little pocket there on the front? IT'S A WIPES DISPENSER! I know, right?! The colorful fabric wipes away messes easily, there's a portable changing mat, and a long strap for over-the-shoulder carrying. I'm not going to lie, you might see me rocking this as my purse. Stop it. You were thinking it, too.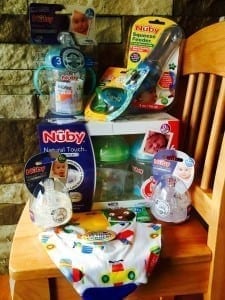 Oh, Nuby. You've been part of almost every one of my kids' milestones. I kinda like that about you. Reliable, safe, easy to use and clean. Excuse me, I need a moment…
And did you know the company gives back to our children by supporting and focusing on educating kids with disabilities?
Yep. I'm verklempt. Talk amongst yourselves.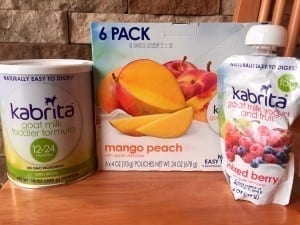 Kabrita USA goat milk yogurt and fruit was created by a naturopath and a professional chef. What does that mean? It means non-GMO, specifically designed to meet little tummies' needs, and YUM! From its toddler formula to the fruit and yogurt mixes, Kabrita USA is non-GMO project verified and a hit with tiny taste buds. (With mine, too. Mango and peach?! Mmmmmm!)
Click HERE for a direct link to the event!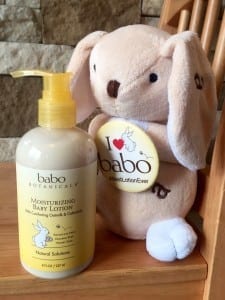 If the snuggly bunny makes your heart happy, you'll be pleased to learn Babo Botanicals is good for your skin, too. 100% Vegan haircare, 100% Gluten free everything, Babo is for babies, kiddos, and those of us with fine lines sprouting up around the eyes. Just me? Don't lie. "Family comes first, naturally," is my new favorite double entendre tagline which makes Babo my new favorite company. And as a family that suffers from dry, sensitive skin, we welcome their soothing Moisturizing Baby Lotion with Oatmilk and Calendula. Now go ahead and make something on that organic farm of yours that turns my skin into Jennifer Aniston's. I'm waiting…
Click HERE for a direct link to the event!

A stylish solution to the disappearing binky! Deepy Deepy Pacifier Bracelet is for you to wear and baby to enjoy. BPA and PVC-free, this bad boy is dishwasher safe and easily attaches to strollers and car seats. No more digging at the bottom of the diaper bag for baby's "quiet button!"
Click HERE for the direct link to the event!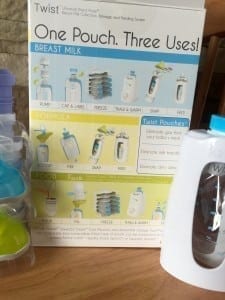 When my first-born refused to latch correctly, my breast pump and I became real close real fast. The clean-up was the worst; wish I would've had Kiinde's brilliantly innovative feeding system: "The Kiinde Twist™ feeding system allows you to directly pump from ANY pump into breastmilk storage pouches with leak-proof, twist-locking caps. You can then label, organize, store, warm, and feed from that same pouch – without ever having to transfer precious breast milk from bottles to bags. Collapsible pouches completely eliminate gas from your baby's meal, and Active Latch™ nipples are designed to teach natural breastfeeding behaviors that ease the transition between bottle and breast."
I mean, come on. BRILLIANT.
Click HERE for a direct link to the event.
Go on, RSVP now! And I'll see you on Facebook for the flash giveaways of the Nuby, Udderly Hot Mama, HABA USA and Vilah Bloom products above! WEEEEEE!
Can I come home with you?