While on Pinterest looking up safe for pets and kids all-natural window cleaner*, I came across pins about running, being a runner, couch to 5K running, Fun Runs, Color Me a Runner runs, You Run, I Run, EVERYONE RUN!
*Nutella recipes
Not interested, people. I'm here for vinegar-based cleanser** then I'm out.
**more Nutella recipes
Despite my recent attempts at living a healthier lifestyle***, I just can't jump on the running bandwagon.
***a little Nutella never hurt anyone lay off
I've tried running…sort of. Ok, it's not so much running as fast walking. Hey–at least I'm exercising right?! Maybe one day I'll give real actual running a try, but until then, all I have are excuses…
10 Reasons I Don't Run
1. A rabid animal is not chasing me. Therefore, why run?
2. My feet hurt and the last time I put plantar fascitis insoles in my shoes, I forgot to take out the original insoles and my heels literally kept flipping out of my shoes and I felt dumb.
3. I fall up the steps on a weekly basis, so I would probably kill myself if I ran.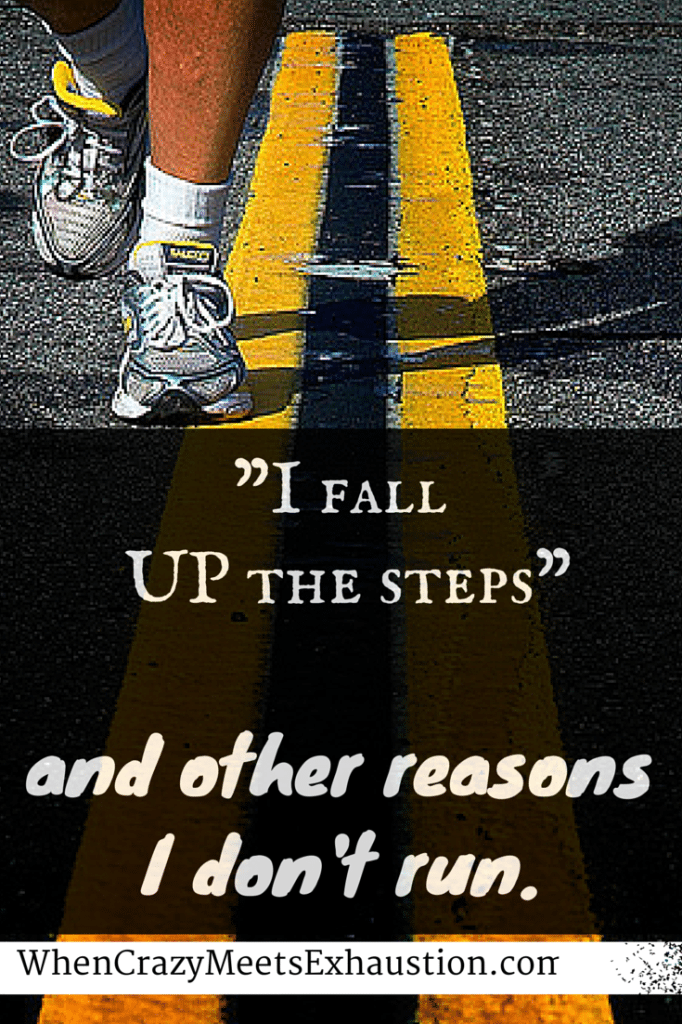 4. I've yet to find my rhythm. And by rhythm, I mean if I can't keep still enough to read a book while exercising, it's just not for me.
5. I know of too many nipple chafing stories to expose myself to such madness.
6. I pee. There, I said it.
7. What's the rush?
8. Running is trendy right now, and I am nothing if not the opposite of trendy. Non-modern? Un-stylish? Anti-hip? Yes, all of those things.
9. I'm all about that bass, no treble.
10. If I start running, I'll lose all the weight that keeps me warm in the winter, and all of my friends will be like, "WHOA! You're running? Who ARE you?" and they won't recognize me and I'll be sad because I'm friend-less and cold.
Are you a runner? Are you offended by this list? Stop it. I admire you and your sore knees, I really do, but not enough to lace up and take to the concrete. Also, do you need a blanket? Aren't you cold?
Photo credit: darkmatter via photopin cc