*Disclaimer: this post contains offensive language. Duh.*
I am an English teacher by trade (smack talker by nature) who worked in the Pennsylvania Public School System before opting to stay home and properly instill an appropriate dose of dysfunctional humor into my kids. Yes, long before I was screwing up my own offspring, I was screwing up other parents'. It worked out well. The career was solid; I loved going to work, I had a good rapport with my students and colleagues, and then one day I said the word cunt at a school assembly.
WAIT! Don't leave!
Listen, I'm as vulgar as they come on a bad day. Even on a good day, I have been known to experiment with all of the wonderful ways a gal can use the F-word. I don't blush at much, but that word, the C-word, is one that makes me wince. Yet, I said it loud and proud into a microphone at a school-wide assembly. That's just how we do.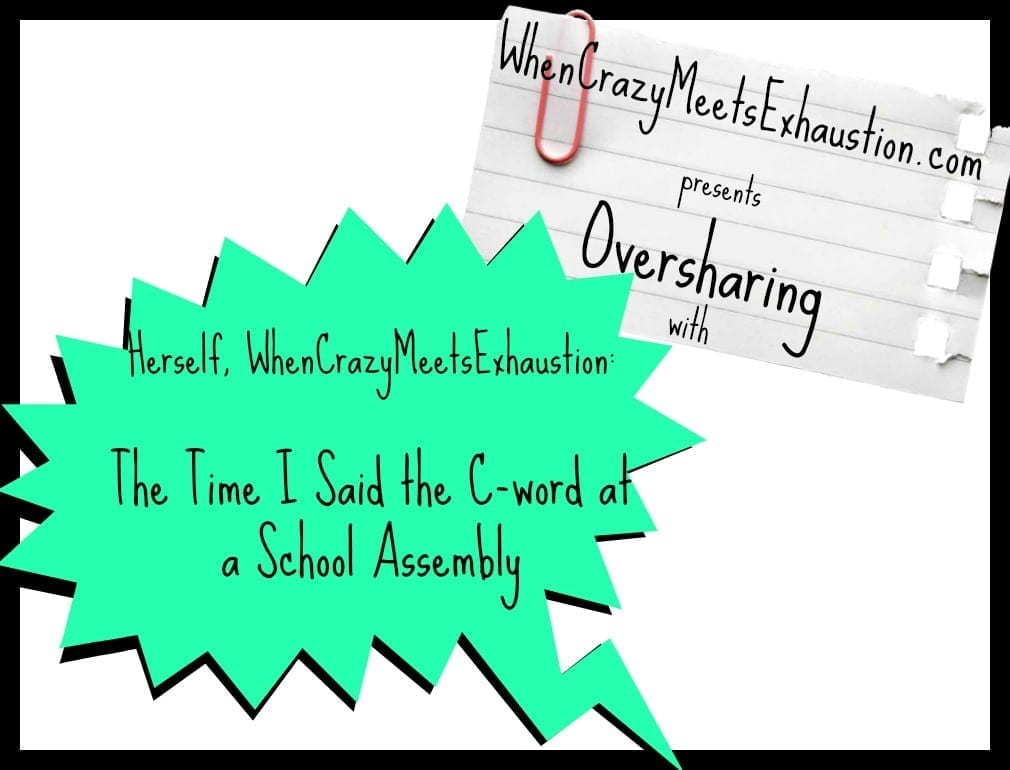 Our principals had organized an assembly to recognize our best students.  The term best was an umbrella that encompassed student athletes, those with special needs, those who maintained high honors, and more. The whole premise was enough to bring me to happy tears, and it made me so proud to be a teacher in that school to those students. Parents, school board members, and other community stakeholders were there in the front row, ready for the spotlight to shine on kiddos who rarely got to bask in its glow.
And then I ruined it with my potty mouth.
There I was in my fancy suit, among colleagues who were also some of my favorite people in the whole world, prepared to introduce a group of students whose stellar work ethic and commitment to academic excellence were to be commended. I cleared my throat, walked up to the microphone, and began:
"Good afternoon. We are here today to recognize the cuntless…………………..countless ways in which our students…"
Blah. Blah. Blah.
I could have announced the cure for cancer at that very moment, and no one would have heard a dang thing I said after dropping the C-bomb. I distinctly remember time stopping, a trickle of sweat rolling down my back into my buttcrack, and a collective gasp from the students who were seated behind me on the stage. One of them whispered, "Did she just say that?"
She sure did.
I looked into the crowd for support, or a bag to throw over my head, only to find my colleagues covering their mouths in shock. Eyes, wide. Deer in the headlights kind of thing.
And then the smiles, the giggles. One of my favorite dudes actually left the auditorium because he couldn't hold it together. I imagine it was shortly after exiting the auditorium that he fired off the following email:
"Steph, we're doing Happy Hour after work. If you're hungry, I think the bar is running a special on cuntry fried steak."
I don't remember much else about the assembly, but I will never forget the looks of agony/embarrassment/amusement from the students and faculty as I completed the walk of shame back to my classroom. I think some of them actually felt bad for me because SERIOUSLY, who says that?! Though most just appreciated the fact that I had humiliated myself. If memory serves me, my principals sought me out later in the day just to see if I needed any support from a guidance cunteslor…
Fortunately, we were a small district, one with a good sense of humor, and I retained my job despite my snafu. But my pride? That's long gone.
This story was originally published last February on WhenCrazyMeetsExhaustion as one of the first Oversharing tales. Wanna get in on the action and Overshare some of your embarrassing moments? Check it out HERE!