See what I did there? You so crazy/Zoo so crazy?! *laughs, falls off desk chair*
(WAIT! Don't leave! You can win tickets to the zoo if you stick around until the end!)
My kids love silly jokes, and because they're young, I can still make them belly laugh, which I appreciate. I also appreciate any downtime I can snag with them because the days are long, but those years are short. The End of School is hectic and our schedules are like whoa, and because my girls are younger than their brother, they're often victims of circumstance and age, being dragged to all his games and tournaments. Last weekend, they spent more time at the ball field than any person should have to. Because they were such troupers, I wanted to reward them with some Girl Time.
To the Pittsburgh Zoo and Aquarium's Dinosaur Exhibit we went.
Beforehand, I warned my four-year-old: "These dinos look real, but they're not. Nothing to be afraid of!"
To which she countered: "I knowed dat because dino-sours don't even live awound here any mo'."
Good talk, kid. I felt justified giving her a heads up, though, because HOLY LIFELIKE, BATMAN!

From the way the dinosaurs move (their eyes move, you guys!), to their sounds, right down to the realistic vegetation that adds so much to the experience–it was like we had been transported right into Jurassic Park.
The girls and I imagined what it would be like to live among such incredible creatures: witnessing the barrage of deafening bellows, their gigantic bodies stalking through the jungles, taking down prey. We've seen the movies and read books, but this exhibit landed us smack-dab in the middle of the prehistoric era, and it.was.amazing.
It was also a nice slice of shady in an otherwise open and sunny zoo, so keep that in mind, parents!
I loved the hands-on educational opportunities that were available, too. With fossil digs, life-like replicas, and zoo educators on-site, there was as much to learn as there was to look at. The signs introducing the species were shaped like the states in which their remains were originally found and I'm a huge dork who delights in those innocuous teachable moments!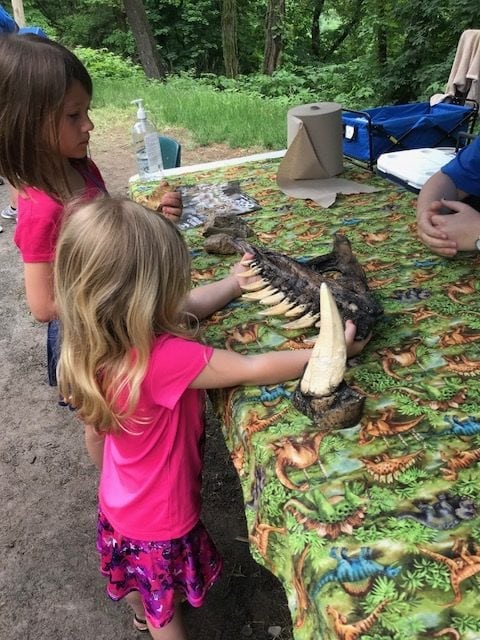 My 4-year-old dazzled us when she compared this guy to a toucan (she's gifted! says every parent everywhere!), and my 7-year-old was ecstatic when she spotted the "hidden" dinosaur in the T-Rex exhibit.

We ended our day with Slushies and, of course, a visit to the Gift Shop, but the greatest gift was the quality time we spent together. When life gets too busy, or the calendar starts overflowing with obligations, repeat after me: cancel everything and make time for family.
The Dinosaur Exhibit was such a unique experience, I know you and yours will love it, too. Check it out HERE and make note of the info this Mama deems GOOD TO KNOW below:
Exhibit open daily 9:30 a.m – 5:30 p.m.
$4.50 person (includes unlimited Dino visits for the day)
Highly recommend tennis shoes–gets a little muddy/swampy
Children under 24 months are FREE!
Guests can upgrade Membership package for unlimited Dino visits for $30
Exhibit is presented by UPMC Health Plan
Closes September 3 so get there soon!
ALSO: A few of the dinos squirt and not everyone appreciates that. Haha!
Don't forget: the dinos move and make noise and may be scary for some. You know your kiddos best!
GIVEAWAY TIME! From today until next Sunday, June 10th, you can enter once a day to win 2 tickets to the Pittsburgh Zoo & Aquarium. Winner will be notified on the 10th and must provide mailing address for tickets. GOOD LUCK!
a Rafflecopter giveaway

The is a sponsored post in partnership with Pittsburgh Zoo & PPG Aquarium and The Motherhood