Back to School is here, yo! Where did summer go?
I think I rhyme when I'm nervous.
It's no secret my main man is starting Kindergarten this fall, and I may be spiking my coffee with Kahlua for a little liquid courage to keep it together while waving at the departing bus. With our official beginning to elementary school comes full days of sweat boxes disguised as classrooms, hot afternoon soccer practices, and other stink-inducing activities.
To help battle your household stink, I'm teaming up with Febreze In-Wash Odor Eliminator and offering a back to school giveaway.
One winner will take home a
$100 Walmart gift card, $50 Dicks Sporting Goods gift card, plus Febreze In-Wash Odor Eliminator to help expel the smell!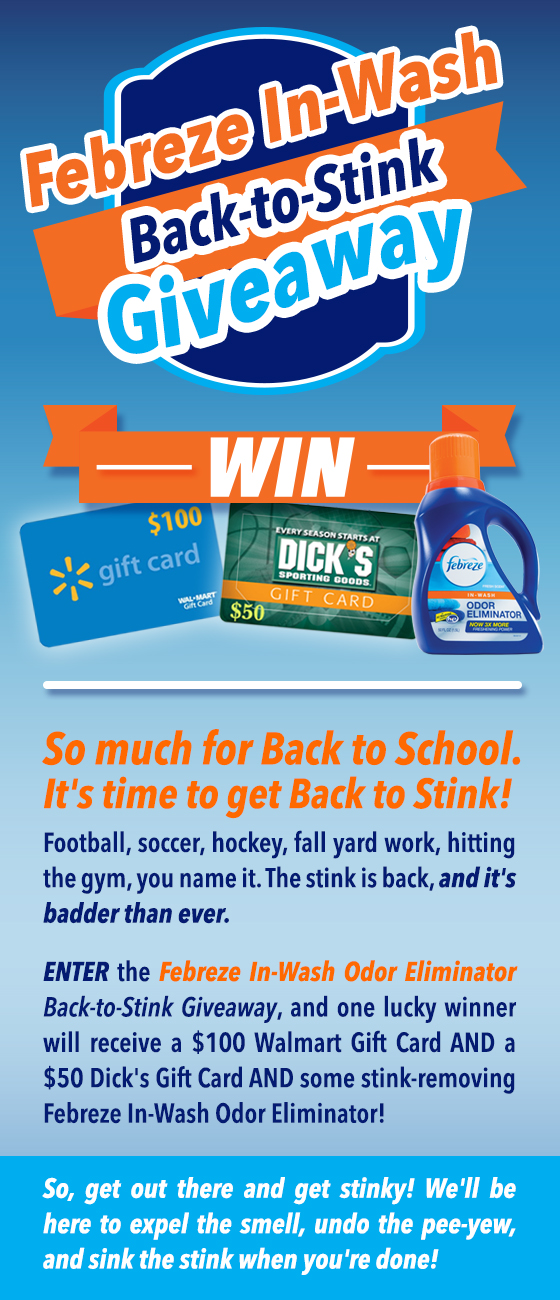 Undo the Pee-Yew
Football. Soccer. Hockey. Fall yard work. Hitting the gym. Chasing your crazy kids around the neighborhood because IT'S TIME TO DO YOUR HOMEWORK GET IN HERE NOW! With school comes the ewwwww. The stink is back, and it's badder than ever.
So click here to download a $2 off coupon to try Febreze In-Wash Odor Eliminator to expel the smell, undo the pee yew and sink the stink.
And if you're already a fan, click here to leave a review.
Enter to Win!
Complete the form below to enter to win!
Giveaway ends at 11:59 pm ET on Monday, August 31, 2015. Entrants must be residents of the United States or Canada. Promotion is void in Quebec.