Envisioning my future family, I always saw myself as a mom of boys. I love me some shoes, but I have never been a girly-girl, and I worried that I wouldn't know what to do with one of my own. Of course I had been told that boys are easier; boys love their Mamas; boys aren't expensive; boys, boys, boys! I remembered what a project I was as a teenager, and quietly crossed my fingers that I wouldn't have to experience the kind of drama I put my parents through.
You don't even know.
The first time my husband and I were expecting, we didn't find out the sex of the baby. Our boy was born in 2009, and he was automatically showered with sports-related attire, blues and grays, and manly car blankets lest anyone confuse him for a female. I honestly didn't have a problem with it. I like sports. Blues and grays are nice. I drive a car.
Almost two years later, I was hugely pregnant with our second and we again opted out of gender identification at the ultrasound. Our daughter was born in May of 2011. I was immediately in love. I was also immediately nervous. I didn't understand why this little ball of baby had me so anxious. Were people expecting me to treat her differently than I did my son? Was I going to have to pretend I loved ruffly, lacy pink dresses? Would my husband treat her like a fragile piece of glass just because she had a vagina? And why did I care when I happily accepted "stereotypical" gifts for my son less than two years earlier?
Fast forward to today, just a few short weeks before my girl's second birthday: she's a rough and tumble kind of gal. My first clue? She was born with a fractured clavicle, yet never once let on that it bothered her. She flailed around and moved with ease, as though her tiny bones weren't trying to fuse themselves back together under her fresh pink skin. Today we have dubbed her Man Hands (after a Seinfeld episode) because she is the opposite of dainty and gentle. Nothing in her path is safe, least of all our hearts, and I love it.
She actually weened herself around 11 months. She saved me the agony over making the "first year" decision, and although I probably would have nursed her for as long as she wanted, Miss Thang decided she had had enough. And that was that. I should also mention that she absolutely refused any artificial nipples of any kind EVER, which posed a few issues, but she's a girl who knows what she wants and when she wants it. It simultaneously makes me proud and crazy, and I have to give her props for being a little fire cracker.
She has been watching me get ready in the mornings and now insists, "Ella Mommy make-up, too." I hand her a clean blush brush and she sits there happily swiping pretend "Mommy make-up" on her flawless face. I did give in when the temperatures surpassed 60 degrees, though: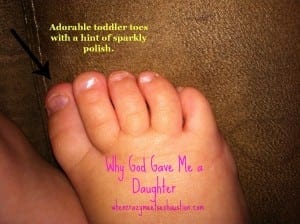 And between you and me, those little dresses? Kind of adorable.
If you're not busy tomorrow, check back here when I visit my dear friend over at Questionable Choices in Parenting and we offer you an exciting giveaway (my FIRST ever!) from none other than Jill Smokler, AKA: Scary Mommy!