Ever watch the VH1 show, Where Are They Now? It's about what yesterday's celebrity is doing today.
For example, Vanilla Ice twenty years ago? Rapping. Or trying to.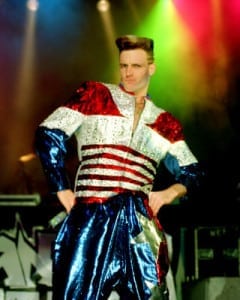 Today? Trying to infiltrate HGTV with his house-flipping street cred.
I like Where Are They Now? because it usually makes me feel better about myself. Sure, if there were an episode dedicated to my boobs, it would be like, "Where are they now? A little further south, and sad." Generally speaking, my life is uneventful.
But at least I didn't go bankrupt (MC Hammer) or shave my head in public and then show everyone my special no-no parts (Britney Spears). Nor did I go balls to the walls crazy, insert-your-celeb-of-choice-here.
Now, if we were to feature my daughter in a spin-off version titled Seriously, Where the Hell is My Child?, things would get a bit more dicey in my house. Call it inept parenting or normal toddler behavior, but I just can't keep track of my wily 2 year-old.
The other day, I was in a meeting (read: sitting in my home office folding laundry while listening to a presentation about something I've been taught to do 234234 times), when I realized my mini-me was…gone. I called for her a few times. Nothin'. I asked my son to check a few of her favorite spots (the refrigerator). Nothin'. Finally, I marked myself "away" from the meeting and started the search.
Usually, she giggles like a maniac when we're on the hunt for her because, while I'm having heart palpitations, she's having a helluva good time.
No giggles.
I start to sweat.
No answer to my "Do you want some chocolate pudding?!" calls.
I start to curse.
Seriously, Where the Hell is My Child?
Then, silently, she emerges from the bathroom. The bathroom that houses the toilet that she refuses to use, but views as a perfectly acceptable receptacle for crayons, towels, and, of course, her hands.
Sigh.
So far today when I've thought Seriously, Where the Hell is My Child?, she turned up in the pantry. On top of the dining room table. Trying to tie her blankie around the dog's neck because "doggie need a cape." And finally, trying to ride the caped pup because toddlers are insane.
I think VH1 would totally get with my idea to feature tired parents misplacing their kids, don't you????
Please don't call CYS on me. I'll put the kid on a leash and we can forget this ever happened.