I like rearranging and reorganizing rooms and even drawers in my home. I'll try different hair colors at each appointment with my stylist (I should be bald by 50), and my face is always in a book (or Google) trying to learn something new. If I had the chance to pick up and move tomorrow, I probably would. It's not that I don't appreciate the things in my life; it's just that I'm insane. I'm not content just being, which has it's advantages, but it certainly comes at a price. Mostly, my husband's sanity.
I often wonder if I'll ever be that elderly lady on her front porch rocking in a white, wooden chair, satisfied smile on her wrinkled face. Sigh.
Despite being drawn to a crazy state of flux, there have been two constants in my life that, regardless of struggles or circumstance, I have remained 1000% committed to: people and writing. That's why blogging is so appealing to me; I'm writing when and how I want, and meeting some amazing people along the way. I'm as loyal as I can be to the blogs I love (I've been MIA lately–I'll be back, I promise!), and I've been fortunate enough to have that loyalty reciprocated. I'm in awe over the influence and sense of community I've come to know through blogging, and that's part of the reason I wanted to attend the SITS Girls Bloggy Bootcamp.
A brief side note: I was worried about the conference because I think I suck at networking. I can't fake it, ya know? I felt anxious at the prospect of handing out my business cards. Hell, I felt anxious making the damn things! Like, who am I?! Who wants my card?!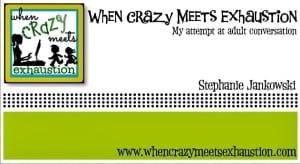 My worries were soon squashed with travel pals like Christine & Janene and Amanda by my side, and the fact that Keurig and Mirrasou signed on as sponsors didn't hurt. Free coffee and wine?! Thank you kindly.
I chatted with the other ladies. Listened to a few presentations. Learned some new things. And then Tiffany Romero commanded the room and my heart by sharing something my husband has been trying to tell me for a few months now: Calm the hell down already. Okay, so Tiffany didn't say it exactly like that, but her point? Sometimes we have to close the laptop and focus on life.
Don't get me wrong, my family isn't neglected, but if you've been blogging for any length of time, you understand how quickly it can consume you. And if you're really into it, it can become a full-time job. And if you already have a full-time job (parenting certainly falls into this category), then you're pulling out your hair to keep up. And only showering every other day.
Another brief side note: I sat next to a retired army officer on the flight home and he told me a story about how when he was stationed in Germany, his wife bought a laptop so they could keep in touch. When he came home, they continued their relationship via technology; he had to email her from another room to communicate with her. Raise your hand if that sounds eerily familiar…P.S. God obviously put this man next to me for a reason.
The conference offered tips and take-aways, and featured ridiculously awesome speakers like Robin O'Bryant. <— I'm adding ya'll to my western Pennsylvania dialect because of her. I was surrounded by talented, lovely women (and one adorable baby I couldn't take my eyes off of #LonelyUterus), and invaluable opportunities and information.  There was also free coffee and wine. Have I mentioned that? Of all the lessons to be learned and content to process, Tiffany and the retired army officer's message was what I circled and highlighted and drew stars around in my notes.
If I didn't have the people in my life, I wouldn't have a blog at all. 
Some of the ladies were making plans to attend their next conference, and others left with a clearer vision of their end goals. I was not among them. All I wanted to do was get home into my man's arms and wipe my kids' noses and squeeze in a nap because good LAWD I'm not 21 any more. Bloggy Bootcamp was an invaluable experience for me because it gave me something that I was lacking but desperately needed: perspective.
I have no friggin' clue what I want from this blog. I've no idea where it will take me, if anywhere. I don't know what my purpose or my "niche" is. But today, I'm ignoring the ginormous list of unread posts on my Bloglovin' feed (sorry, pals), and focusing on my living and breathing constant. If I do end up in a rocking chair on a porch somewhere, I'll want someone beside me.
Special shout-out to Meredith for sharing her funny on Friday while I traveled. I appreciate you, friend!