In April of 2014, I gave birth to my third child, an almost 10-pound baby girl.
In August of 2014, the family and I went to the beach and I ate all the things. Also, alcohol.
In September of 2014, I sat myself down and had a talk.
Self, you're large and out of shape. Yes, you just had a baby, but come on. What are you doing to lose the baby weight? You're walking the hills in your neighborhood, super. You're also eating like crap and your jokes about Blue Moons are starting to show…in your gut. Get a grip, woman!
Right around the time I proverbially slapped myself upside the head, a dear friend mentioned something called the Bikini Body Mommy Challenge, 2.0. I laughed because Bikini Body Mommy? What a silly name! My goal wasn't to rock a bikini; I just wanted to climb a flight of stairs without getting winded. But…I wouldn't hate having my pre-baby abs. I joined the 90-day challenge, with a real emphasis on diet the last 4 weeks. I "only" lost 6 pounds, but I've lost so many inches that I've gone down two pants sizes, and don't jiggle nearly as much when I wiggle. The weigh loss, or rather, redistribution!, is especially noticeable around my waist and hips, which is where that 10-pound baby was soccer kicking me. I am incredibly proud of myself, especially because completing the challenge meant waking up earlier than my kids, and my kids like to watch the sun rise…
I must've been feeling super confident because around the time Bikini Body Mommy 2.0 ended, I came across a 21-day no junk food challenge on Pinterest. Have you seen this?
So I started this on December 1st. Without realizing it, I cheated on December 3rd (didn't remember I couldn't eat a muffin. A MUFFIN IS NOT JUNK FOOD! IT IS DELICIOUS BREAKFAST GOODNESS!), but until yesterday, I adhered to the challenge, specifically the no chocolate challenge. I had zero chocolate. ZERO. Then I forgot again and popped a cluster of chocolate-covered raisins in my face. OOPSIE! A couple of months ago, that would've been enough to send me into a downward spiral, totally giving up because of one snafu. But since completing the 90-day exercise challenge and seeing how capable I am, I put that one bad day behind me and got back on track.
Fittingly enough, this week I received an email asking me to help spread the word about UnitedHealthcare's campaign, Western PA Pride. At first I was like, "Are you people spying on me?!" and then signed on to be a part of it.
What is the Western PA Pride campaign?
As part of the Western PA Pride Campaign, the 12-Day Holiday Challenge asks Western Pennsylvania residents to take a photo of themselves being active and/or making healthy choices in and around their city, then upload it HERE. Playing outside with the kids, eating a salad instead of a pizza, rocking yoga pants and actually doing yoga–snap a selfie, people, and enter to win!
Enter to win WHAT?
Every photo submitted from December 13th to December 24th will be entered for a chance to win a $25 gift card! There will be one $25 cash gift card winner every day for twelve days.
Why should YOU enter?
Because I did. Took my 3yo to Starbucks and instead of her usual cake pop, I somehow got her to choose the healthier choice: organic apple juice. If you know my strong-willed toddler, you know what an achievement this is.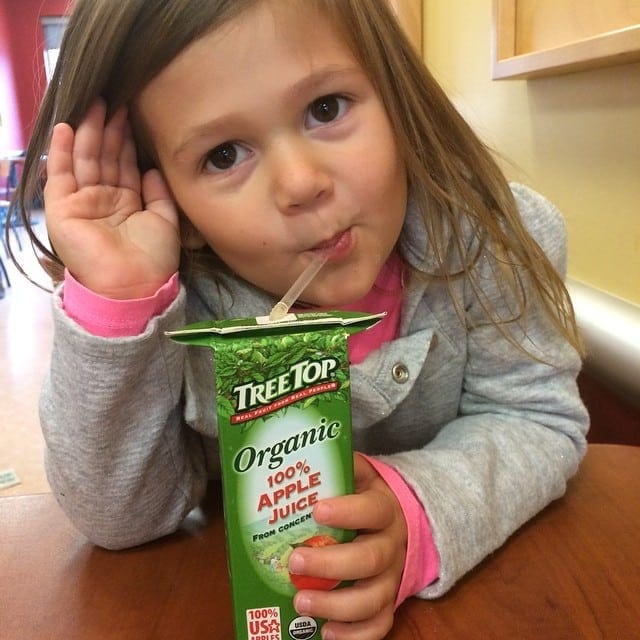 Hop to it! Upload your photo to http://westpapride.com/ for a chance to win one of 12 $25 gift cards. Buona Salute!
I was compensated to write this post, but I really did lose weigh and inches and gave up chocolate without hurting anyone. Weeee!