The husband and I recently celebrated seven years of wedding bliss. We went out to a dinner that didn't require miniature silverware, wet wipes, bibs, or the bag o' tricks, otherwise known as Don't Embarrass Us; Your Food is Almost Here. If I recall, I actually dried and styled my hair instead of rocking the normal fresh out of the shower ponytail. I know I put on make-up because I had a zit the size of a silver dollar on my chin and that shizz needed some serious cover-up. The point is that I was actually lookin' pretty decent, so when the husband remarked that I was "glowing," I just figured it was my bronzer.
I was wrong.
How funny are these two?!
We're having a baby!!
I don't know why I was so surprised by the news; after all, the universe does like a good joke. If you're trying to get knocked up in a timely fashion, please follow the steps below so the universe can laugh at your attempt to control the creation of a human, too:
1. Based on last few months' intense cycles, spend half of your paycheck on feminine products . Open them, sort them, and place a trillion of them in all of the bathrooms, your purse, the diaper bag, and your car's glove box and repeat after me: WE WILL NEVER BE CAUGHT OFF GUARD AGAIN!
2. Because identifying ovulation has been difficult, spend the other half of your paycheck on an ovulation kit and bubblegum. Waiting is boring; blow bubbles to pass the time.
3. Look forward to your yearly beach vacation with unmatched fervor and envision the cold Blue Moons you'll imbibe at the water's edge.
4. Look forward to your yearly beach vacation with unmatched fervor and envision the shellfish you'll shovel in your face until you can't move.
5. Take a $2.00 pregnancy test. Because this is your third child, no need to indulge in the $10 read-out tests: Pregnant/Not Pregnant are for rookies. However, please note that your Type A personality will insist you buy 5 of the $2.00 tests, and because of your inability to understand math, you won't realize that you've wasted money until it's too late.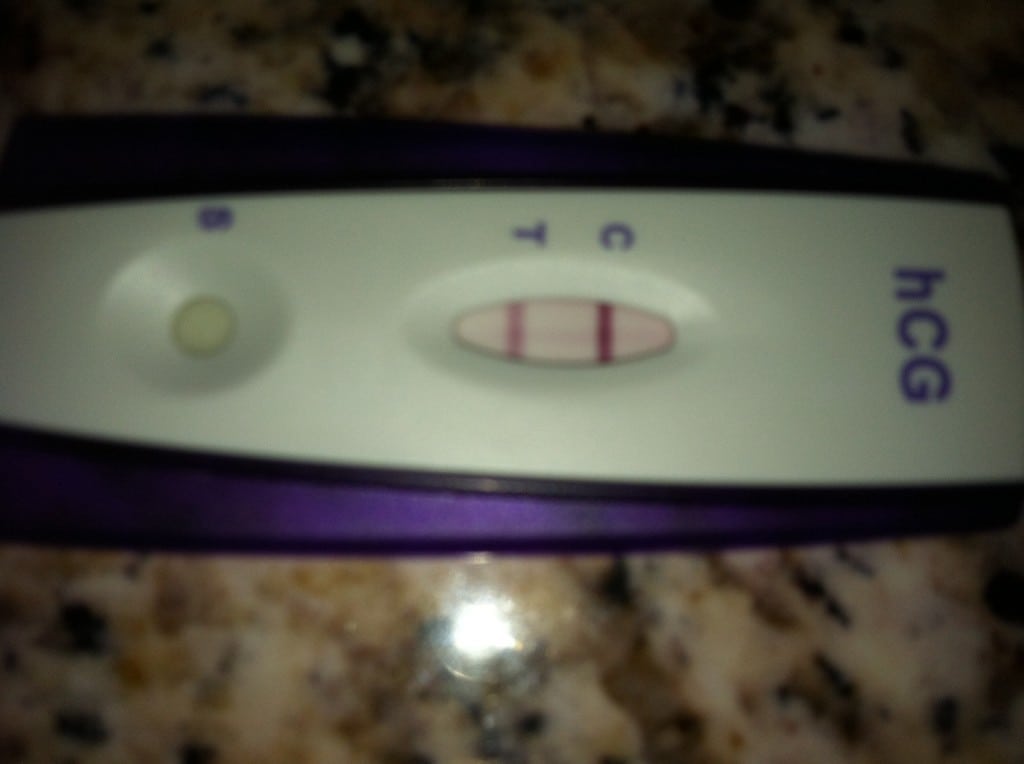 6. Buy yourself a copy of Paige Kellerman's book, At Least My Belly Hides My Cankles: Mostly-True Tales of an Impending Miracle and laugh yourself into labor. Paige seriously made me snort with her daily pregnancy observations and stream of consciousness way of thinking. Her writing is a cross between something Larry David would pen and every pregnant woman's thoughts. The honesty, the hilarity, the heart–Paige brings it all. If you, much like my period, are late and have yet to snag her book, today is your lucky day! I procrastinated sharing her witticisms so our giveaway would coincide with my news because I'm selfish efficient like that. Leave a comment and you're automatically entered to win a free copy of Cankles. (We have a secret number system to choose the winner, simmer down).
7. Re-enroll in your online pregnancy group STAT and begin obsessing over conception dates and due dates and the age of your eggs. Then sit back and watch drama unfold when the imbalanced pregnants of the group start virtual cat fights over breast feeding vs. bottle feeding or vaginal births vs. C-sections. Ahhh, good to be back, ladies. Good to be back.
So if you're looking to get your eggo preggo, the aforementioned tips will help. Probably not, but they worked for me.
I'm a little neurotic, but oh-so-excited! I've always envisioned being a family of five with two dogs and a swing set in the back yard. Somehow, my dream is coming true. I'm sure to drive myself insane finding things to worry about, but for now, I'm just going to bask in the blessing that there is a little person growing inside of me. Fortunately for those who see my face on the regular, I'm a pretty zen prego. I'm one of those weird anomalies who actually enjoys being pregnant.
Just remind me I said that when I can't see my feet and I'm peeing every six seconds.
Oh and congratulations to YOU, too! Right now, you are but an empty vessel, but soon, and for the next nine months, I will fill you with pregnancy-related woes, questions, rants, successes, and breaking news. Breaking news like my rock hard stripper boobs; when they return, you shall be the first to know. You're welcome?
Yay, babies!!!