We are a baseball family. I know some of you will read that and think Gah! Baseball is too slow! There's no hard hitting action. But what the sport lacks in physical contact, it makes up for in heart. In history. And in the hot dog gun.
Extra innings.
Inside-out-hat rallies.
Grand slams.
2-out lightning.
Take Me Out to the Ballgame.
The seventh inning stretch.
Yes, even the wave.
These things mean something to my family. They mean tradition and summers and cold beer. Cookouts and tailgating and corn hole on concrete. We put the radio on the pool deck so we can hear game over the kids' shrieking and splashing. Taking our son and daughter to their first game was a family event; aunts and uncles and grandparents join the fun to relive the experience through a child's eyes.
One of my favorite memories of moving into our new house is of me and my husband together on the couch. The windows were open behind us, blowing in the new spring breeze. The waning sun was the only light in the room, save the flicker of the baseball game on television. My head was in my husband's lap and his fingers in my hair. I made a point of taking a mental snapshot of that moment because I wanted to always remember what it felt like to be so blessed.
Baseball has always been part of the soundtrack to my family's life.
My family is baseball.
Specifically, we are Pirates baseball.
Our city has felt the heart-break and frustration of losing seasons and "so close" seasons, and while many turned their backs and shook their heads in disappointment, my family has remained faithful to our Bucs. My brother is, in a word, obsessed. There have been years that we've rolled our eyes at his unbridled all-consuming passion for The Pirates, but we've never stopped going to games or representing the gold "P." Or posing adorable kids in Pirates attire…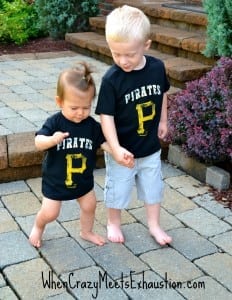 Pittsburgh's PNC Park isn't just a baseball park. It's a 21-foot high right-field wall tribute to beloved player and humanitarian Roberto Clemente. It is long bombs whizzing past fans waiting on the water and finally plunking into the Allegheny River. PNC is the baseball park with a city backdrop. It is fireworks for homeruns and pierogie races for fun and t-shirts blasted into the stands. PNC Park is Sunday family days, kids running the bases post-game, and the greatest damn vendors peddling popcorn and cotton candy and cold Coors Light here! PNC Park is Clint Hurdle chomping bubble gum in time to the fans' Let's Go Bucs chant.
Last night, the air in Pittsburgh was electric. The excitement, contagious. Something was about to happen at PNC Park that has never happened before, that hasn't happened to the Pirates since 1992.
We won our first post-season game in over 20 years. I let my four-year-old stay awake to watch a few innings, and he was ecstatic to see Byrd and Martin's homeruns. At least he was until my brother's cheers scared him and made him cry.
Pittsburgh showed Cincinnati what happens when you throw at Andrew McCutchen one too many times. What happens when almost 40,000 people get inside a pitcher's head. Last night's win wasn't just the Pirates'; it was the city's. And that's because we are family.
From Sister Sledge to Zoltan, well done, Bucs. Well done.