In case you need some tunes while you're reading this rant, here ya go:
Lately, I've been feeling that anxious heart racing in my chest kind of thing, and I didn't know why. Kids have been good, healthy. Work is under control. I managed to wash my hair twice last week. So, what then?!
'Tis this blogging business.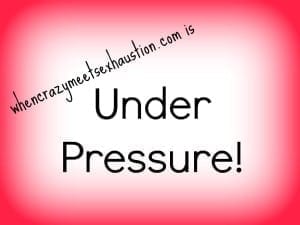 I love writing, don't get me wrong, but good lawdy it can be demanding! There is so much pressure to
think up witty, relevant content

post every day

include/create relevant images so you can
pin to Pinterest
share on Google+ (what the eff Google reader?! Really screwin' us…)
post on Facebook
tweet on Twitter
do whatever people do on Instagram
And if you're a glutton for punishment, there is a whole different level of pressure to
stalk  contact companies and websites about getting some of your witty content published
write more, original witty content because the companies and websites don't want the stuff you've previously published
throw something. You feel better now.
take it to the next level and move to a self-hosted blog
get out of the house and experience a bit more of life so you have fodder that doesn't include changing diapers or stray chin hairs (I'm still working on this one…)
Don't forget about your love of reading and the people whose writing you can't live without; you want to be sure and
maintain the community of writers you've come to know and respect

read your favorites' stuff

leave a heartfelt comment because you want to
not forget you have to work/feed the kids/empty the dishwasher before your husband comes home
So, yeah, blogging is BUSY.
Does anyone else have a dozen different blog-related accounts? Does anyone actually remember the passwords to said accounts? I had to make a spreadsheet, people–a SPREADSHEET–to keep all this stuff organized. Between working online and blogging online, my computer is dying a slow death. But once the PC kicks the bucket, I shall buy the beautiful Macbook my husband says is unnecessary.
What does he know? He wears socks with sandals.
And these, friends, are my random thoughts for the day.
Have I mentioned that this is the last NaBloPoMo I will be participating in?
Did you hear that?
Just my brain exploding. Carry on.