Jokes about moms not being able to pee alone have become as mainstream as the stereotype we all share the maternal aspiration to peruse the aisles of Target sans kids while sipping a Starbucks. I'm here to tell ya: we don't all fit the Target/Starbucks mold. In fact, if given the choice, I'd rather curl up in my reading chair (yes I do have one) with a good book and warm blanket than put on pants and have to talk to people. Stereotypes are bad for a reason. They perpetuate inaccurate portrayals of individuals, lumping them in with the masses.
Except for that mom peeing alone thing. Yeah, that one's totally accurate.
Talk to any $6.00-for-coffee-is-insane Mama and she'll corroborate that statement. Be it curiosity, the refusal to be without us for more than 10 seconds, or an honest to goodness fear that we'll never return, toddlers follow us ev.e.ry.where. And into the bathroom is no exception.
We run a pretty open household 'round these parts, but I gotta say: there are certain times during the month…ahem…when I very much prefer to be in the bathroom solo. Without an audience. With zero questions. With nary an offer to help…
So you can imagine my unbridled delight (sarcasm font) when my then-two-year-old interrupted me on what will now be forever known as The Day.
The Day began like any other: with my mini talking a mile a minute and me nodding, pretending to understand what she was saying. About halfway through her 60-minute dissertation about crayons, I needed to use the restroom. I politely excused myself from the riveting conversation and asked that my tiny tot stay put, promising to return super quick. I handed over the iPad and she appeared to oblige, but I should've known better. In the middle of handling my lady business, the little munchkin burst through the bathroom door with a bright "Heh-yo Mummy!"
She stopped in her tracks.
First the weird looks. Her big blue eyes looked puzzled as she took two steps backwards. She cocked her curly head to the side like a dog does when he thinks he hears his master calling. Then a sly smile appeared on her face, as if to say, "We are one."
Then the questions: "Why you wearin' a diapee?" "Did you pee-pee in your pants?"
Finally, the request to touch things. And wear them. And "do what Mama do."
Then it hit me. I had just received a shipment of Dry Like Me training pads that are supposed to help ease the transition from diapers to undies. They're soft, thin, absorbent. Adhesive attaches them to my kiddo's Shopkins undies…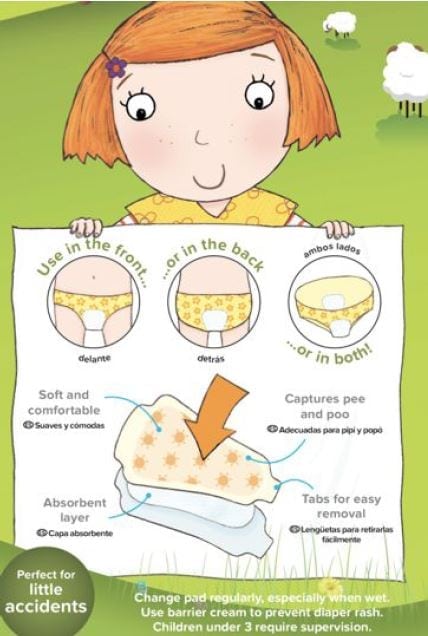 I leapt off the throne like a lady with an idea because…well, I was a lady with an idea! "Here, peanut! Look what Mama has for you!" *hands over a box of Dry Like Me*
"What dis?"
"You can do what Mama does! But you can't wear a diaper with them, okay? You have to wear your fancy pants* with them."
*fancy pants = what desperate parents call underwear to entice potty training
Skeptical at first, then, "HEY!! Mama's on da box!"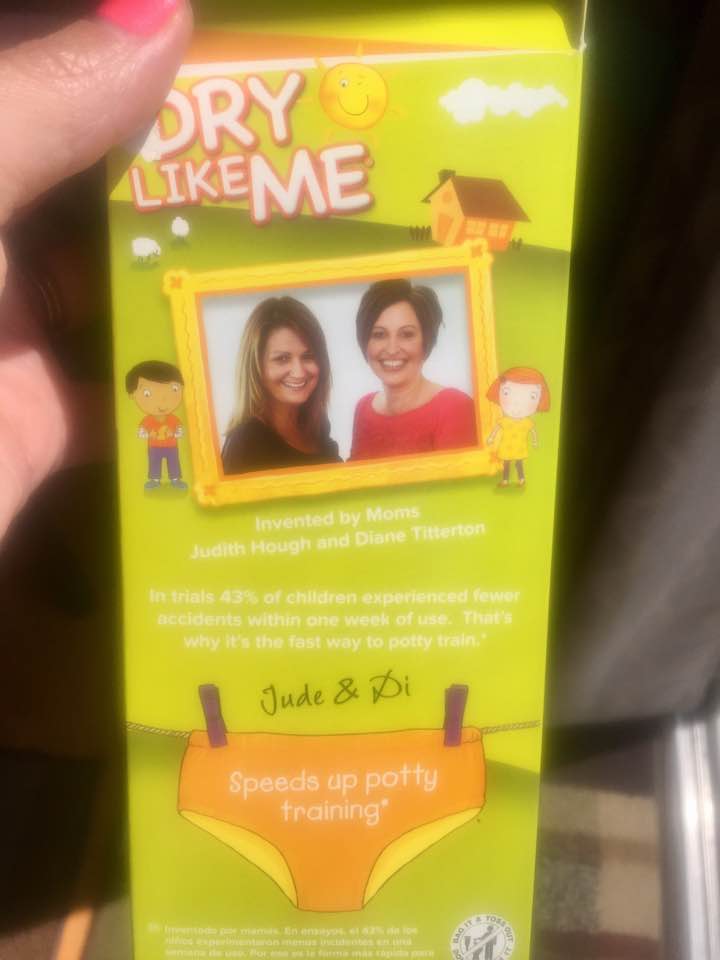 You. Guys. Not only has she been wearing Dry Like Me, but she is so proud of herself that she takes an extra one with her wherever we go. Grocery store? Dry Like Me in her pocket. Visiting friends? Whips a Dry Like Me out of my bag to show everyone at the party. She is adamant she's doing what Mama does, and as for this potty training Mama? I am A-OK with that!
I'd love to end with a definitive TA-DA!!! AND NOW SHE'S COMPLETELY POTTY TRAINED! But nope. She's still biding her time with fictitious complaints and promises like the potty hurts her legs and she "won't be ready 'til next Tuesday." (Don't bother suggesting we get a stool for her feet or remind her that several Tuesdays have gone by since her promise–been there, done that).
I'm all about baby steps, and The Day we started using Dry Like Me has been one of the biggest baby steps in our training endeavors. I love that they bulk up when wet, basically inconveniencing her to the point of wanting changed immediately. This'll eventually translate into "I will not pee in my pants AT ALL." There's absolutely an increased awareness which, in my training experience with her siblings, is the key to progress. When she does have an accident in Dry Like Me, we go to the bathroom to take care of it, not to the change table like we would have with a diaper. It's all about switching up her routine and getting her used to NOT wearing diapers. And on an unrelated note: how freaking hilarious is it that she waves what looks like a pantyliner around in public?! Humiliating. I mean humiliating.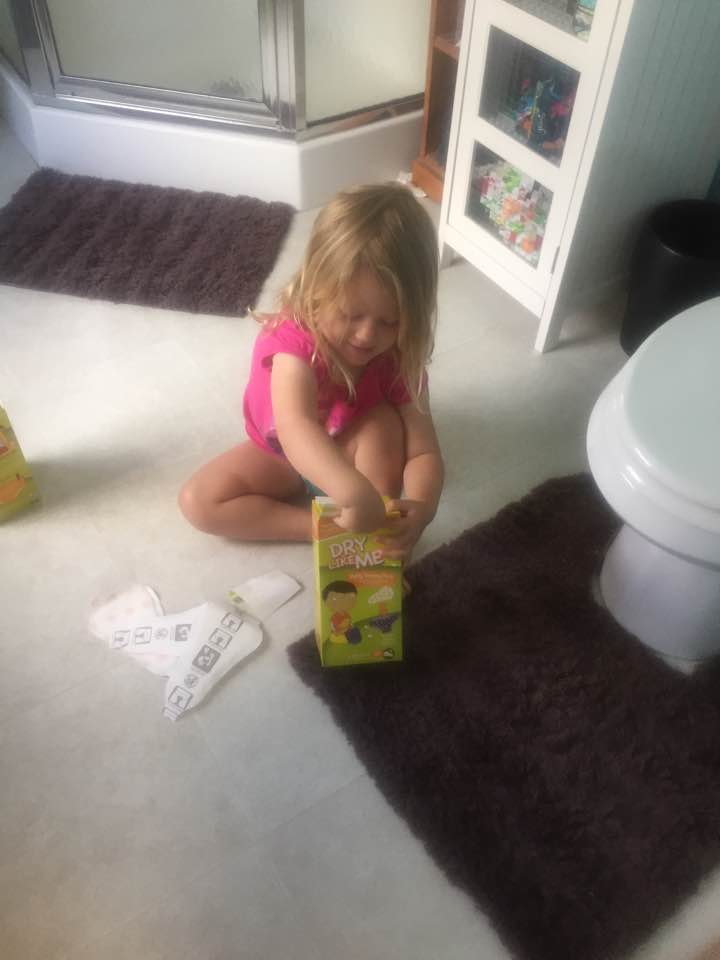 At any rate, we're definitely one step closer to doing away with diapers, but if I'm being honest, I'm not rushing things. My last baby. No more after her. I wouldn't hate it if The Days stood still for a bit.
GIVEAWAY TIME!!!!!
This will be SO fun! All you have to do is follow Dry Like Me on Facebook, then head on over HERE where I'm hosting a Kids Say the Craziest Crap (get it? potty training? crap? Bueller?) giveaway. We're sharing the funniest/craziest/most embarrassing thing our kiddos ever said about or during potty training. I know we're going to have some real gems–don't miss the fun!! The winner will receive a case of Dry Like Me's, as well as $30.00 gift card for Babies R Us since that's the first US store to carry the product. There's a little factoid for ya! Dry Like Me is also available on Amazon so put your Prime membership to good use why don't ya?! GOOD LUCK!
This is a sponsored post; I was compensated to share information about the product, but all stories and opinions are my own. Prizes subject to change as per availability.