At this time last week, I found myself sitting in the bleachers at our local elementary school waiting for my number to be called. In my own version of the Hunger Games, I wrung my hands and conspicuously dabbed the sweat pooling at my hair line. This was it. There was no turning back; I was officially registering my baby boy for Kindergarten.
Another last first: check!
The process was surprisingly simple, streamlined thanks to the women who coordinated it. (Let the record show there was not one man in attendance. Could the impressive organization of the day be credited to so much estrogen? Science says YES.)
The ball of anxiety that had made itself at home in my gut melted away with each completed form I relinquished. Dare I say, things went well! Then, just like that, it was over. I left the last station with a school calendar in hand and a NOW WHAT? expression on my face. One of the school nurses caught my eye and smiled warmly, "That wasn't so bad, right?" I returned her smile and requested a stiff drink. She stopped smiling.
That's when it hit me: despite the extreme care and attention to detail with which the whole process was implemented, I needed more from kindergarten registration. Parents everywhere need more. It is on behalf of those parents I suggest the following five tips to improve kindergarten registrations everywhere.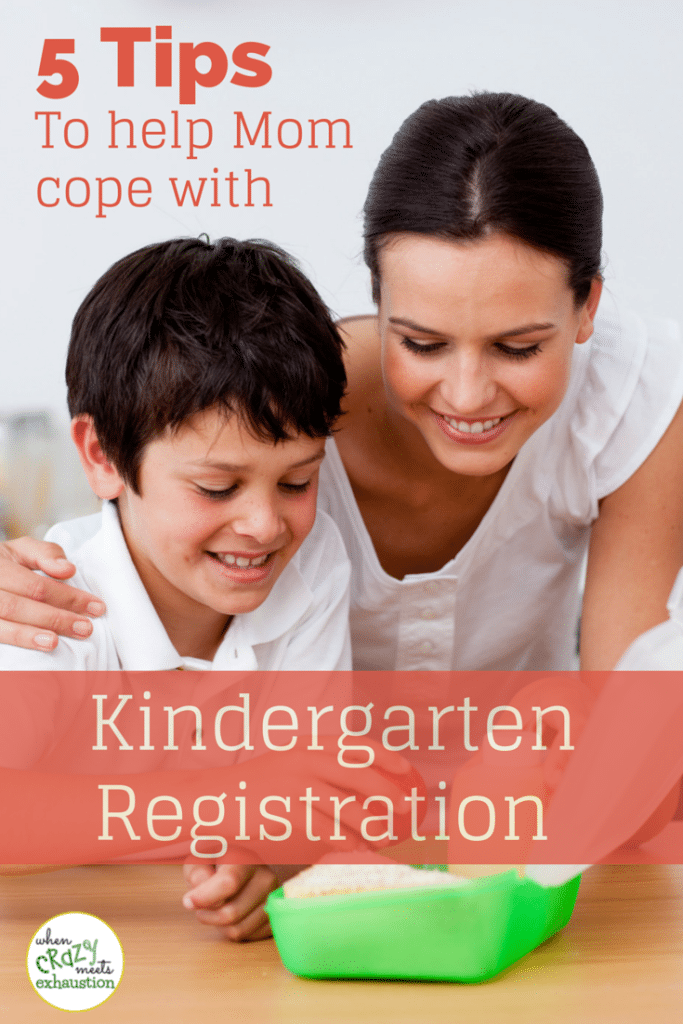 1. As was previously mentioned, there was nary a male in sight during the registration process. This observation was made with no disrespect to Dads; it simply means the responsibility of registration falls mostly on Moms' shoulders. As such, school administrators should please consider the following:
If Mama's cycle falls directly before or on registration day, she should automatically be exempt from the original date and granted a make-up day.
For that matter, should Aunt Flo visit on or around orientation, Back to School Night, the day our kids practice riding the bus, and especially the first day of school, just go ahead and scrap the whole itinerary. Reschedule as needed. Our hormones will thank you. You will thank us.
2. One thing I really appreciated about the registration process at our school was the different stations. Rather than standing in a line longer than that chin hair that just won't die, I moved from table to table, from one informed, helpful lady to the next. However, after the last table, instead of sending me away with a lump in my throat, might I suggest someone be there to steady me, perhaps compliment my new spring jacket? She will then lead me to a final station called And Now We Drink. Sit me down and pour me a tall one, Mr. Principal. Mama's feeling all the feels right now and would like to drown her sorrows in a Blue Moon.
3. Why are there 39 bottles of hand sanitizer, but not one box of tissues? What's wrong with you people? Have you no soul?
4. So when the school nurse says, "the screening is in May," I hear "is your kid a dummy? Have you been doing your job? Have you totally screwed him up? LET'S FIND OUT IN MAY!" A therapist on standby to anticipate and deal with these demons would be super. K, thanks.
5. Most of the people at registration will come in direct contact with my kid. You with the mop, the secretary with the kind eyes, and the lunch lady dishing out extra helpings of chocolate pudding, you will all be instrumental in my boy's Kindergarten initiation, and quite frankly, I'm not okay with that. I tell my child NOT to talk to strangers, but I'm supposed to leave him in your hands? You, who I don't know from Adam, will spend more time with my son than I will Monday – Friday! I don't know what you do for fun. I don't know your kids' names. My three-year-old needs to know your favorite color to decide if she likes you. So, let's be friends, okay? After I get my drink on with the principal, can you guys invite me over to your house? Let me meet your parents, pet your dog, snoop around in your medicine cabinet. It'll put my mind at ease and contradict any unhealthy suspicions I may have that you're making meth in your basement.
There we go! Making those minor changes to the Kindergarten registration process not only ensures we parents are more comfortable leaving our offspring in your care, but that we're also getting the extra support we need. Namely, therapy and alcohol.
Photo credits: