March is in the books, pals. Today, the first day of April, means I am officially done with BlogHer's NaBloPoMo challenge. It was fun, and I'm glad I gave it a whirl, but at times, it really hurt my brain.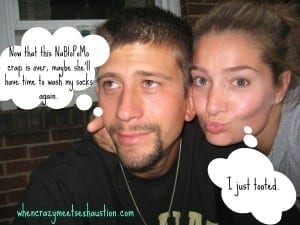 Here are a few of the things I've learned from participating:
Less is ultimately more.

Despite invading inboxes and clogging Facebook feeds for a full month, some of those closest to me continue to ignore the fact that I have a blog, have been published elsewhere on the web, and have even experienced a little monetary success with my writing. Kinda hurts my heart.
On the flip-side, I have AH-mazing readers and supporters who were by my side for the full 31-days. You read, you commented, you pimped out what you liked most, and for that, I thank you. You keep me writing.
I've yet to figure out the best time of day or day of the week to publish as to maximize exposure. This was one of my personal goals during NaBloPoMo and I failed. I'm over it.
A half a dozen people, some with whom I speak every day, others I haven't seen in years, have contacted me to let me know they've started writing/blogging because they were inspired by my crazy. If that's not reason enough to keep writing, I don't know what is!
Link-ups and themed writings are great remedies for a brain fart.
My Oversharing series seems to be a hit! Weeeee! Speaking of which…
tune in tomorrow when Kerry from House TalkN stops by to Overshare. You may recognize Kerry's funny from "her" best-selling book, I Just Want to Pee Alone, but tomorrow she will be dishing about the time she was naked. At the YMCA.