I like to break a mental sweat every now and then (–White Goodman, Dodgeball), so when I read that my gal Stephanie Sprenger over at Mommy, For Real, along with Jessica of School of Smock, Sarah of Left Brain Buddha, Deb of Urban Moo Cow, and Lauren of Omnimom were doing this Around the World in Six Weeks Parenting Blog Carnival thang, I wanted the in.
Then I was like, what is a Blog Carnival?
I'm going to let Stephanie explain because she uses words gooder than I:
This Blog Carnival is inspired by Christine Gross-Loh's new book, Parenting Without Borders: Surprising Lessons Parents Around the World Can Teach Us.  It's a fantastic read for parents, educators, and anyone interested in American parenting today…We're calling it a "blog carnival" because blog carnivals are collections of blog posts, written by different bloggers, all focused on the same topic.
Today's question, is too much self-esteem harmful to kids?, lends itself nicely to my tendency to over-analyze everything in life. For instance, I have little kids; my youngest is one in April, her sister is four, and big brother will soon be a whole hand plus one finger. I don't think they can have ENOUGH self-esteem right now. I want them immersed in security and confidence now so they grow up believing they are capable, intelligent, beautiful.
On the flip side, if we're talking about older kids, namely teenagers, I can't stand me a cocky 16-year-old, and "too much self-esteem" can easily translate into arrogance.
So I guess the short answer is yes, I do believe too much self-esteem can be harmful to kids, specifically as they grow older and begin to form relationships with other people. How can parents lay the foundation for self-assurance, but pepper life with doses of reality as to achieve that delicate balance so that our children don't morph into overbearing a-holes?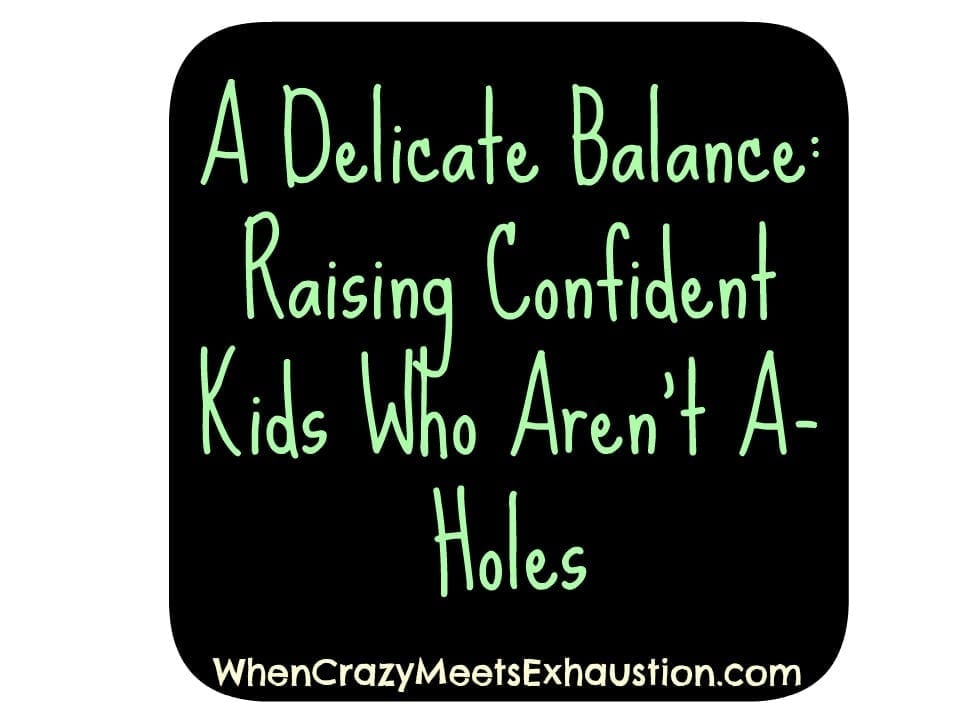 Therein lies the challenge: how do parents instill confidence, but keep the kid's ego in check?
I've no clue. But I'm going to throw out some idears for a recipe of confidence with a touch humility:
* Let the kid fail. Many life lessons are learned when we get up after we've fallen. Help them up, but don't stand in the way of the tumble.
* Celebrate the successes. But not too much. So the kid learned to tie his shoes? Fantastic, but don't buy him a pony. He got an A on his AP History exam? Swell! A pat on the back and a "good job!" should do the trick. I feel like if we over-celebrate everything, the really big deals won't matter as much.
* Support your child despite your own interests and opinions. My mom was never an athlete, but she cheered on my brother and me at all of our games and meets. Children feel better about themselves and their accomplishments when their parents take an active role in their hobbies. That is not official nor have I researched it, but it's common sense, right?
* Be honest. If the kid can't carry a tune in a bucket, but wants to try out for the lead in the musical, c'mon. Which leads me to…
* Re-direct them. I use this tactic all the time with my kids and students; focus on their talents and strengths. That's not to say write them off if they're not the BEST at something, but if talent lies elsewhere, why not hone it? "Honey, I've seen you dance and you're fantastic! Are you sure you wouldn't rather bust a move in the school musical instead?"
* Keep them humble by contrast. The best way to instill a sense of appreciation in kids is to show them how fortunate they are. Together, volunteer time tending to those in need: feed the hungry, donate clothes to house fire victims, etc. If your daughter is a fantastic athlete, get her involved coaching younger players. If your son is an outstanding student, he might make a great tutor. Once your kid sees that not everyone else has their stuff or talents, they'll begin to understand how very lucky they are. Humility is a beautiful thing.
* Challenge them. Don't be afraid to let your kid be the small fish in the big pond every now and again. Stiff competition and stepping outside of her comfort zone will only make her better.
As a parent and a teacher, I have seen the benefits of a child's positive self-esteem first-hand. It makes sense that confidence begets a fuller life, and isn't that what we all want for our children: to experience all that life has to offer without feeling confined by insecurities? However, there is a fine line between confidence and arrogance, but it's usually pretty easy to spot: just look for the pop-collared Abercrombie and Fitch shirt and a golf club atop a self-imposed pedestal. Oh, I'm sorry. Flashback to my ex…
For other (more professional) thoughts on the subject of self-esteem, check out:
Originally published in July, 2013
Photo Copyright: felixtm