Hello, high school students, and welcome to class!
My goal is to help you succeed in our course and, ultimately, in life. I have dedicated myself to your progress as a student and as a person, but despite my 100% commitment, you will need to meet me at least halfway. I understand that some of you hail from less than stellar circumstances, and some of you do not have a support system at home. The good news is that everyone is created equal in my classroom and I'm a fantastic cheerleader. I love my job and want to help you overcome any obstacle that stands in the way of your education, which, by the way, is currently free. Word on the street is that if you dive into this thing now, future academic endeavors may be paid for by a third-party. Awesome, right?
So let's get this party started. Today's lesson was designed with you in mind, and by following these tips, you are ensuring your success. Or at least that I won't hate you.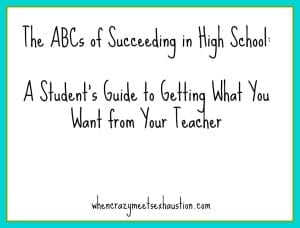 Always ask questions and voice your concerns (about course content, not a yeast infection <— that really happened). I'm here to help, but you have to tell me what you need. And if what you need is a gynecologist and/or to keep your pants on, for the love of GOD shut up.
Be proactive. If you know you're going to miss class, give me a heads up. If you're going to be out on a week's vacation to Disney World because your parents didn't get the memo that Mickey is available June – August, you're taking all of your work to the Magic Kingdom.
C-Rules, as in The Rules of the 4-Cs:
a. Cursing: don't do it. One of you submitted an essay with the title "Fuck This" emblazoned in 46-point font on the title page. Aside from the obvious (it should have been italicized and not in quotes), the use of an F-bomb is generally frowned upon. I'm as liberal as they come, so if I'm saying it, you know it must be real talk.
b. Capitalization: unlike cursing, i encourage this practice.
c. Communication: I'm sure your mother is a very nice person; however, I do not wish to spend all of my free time on the phone with her. Especially if she is an ignorant bitch which, consequently, is often the case. You will earn respect by fending for yourself instead of sourcing out all those dirty jobs like talking to a human being.
d. Cheating: another no-no, but not for the reasons you think. Sure it's dishonest, can be a form of stealing, blahblahblah. But do you have any friggin' idea how long it takes me to straighten that shit out? I've got to find the original source (including hyperlinks in your final draft is helpful, and I thank those of you are committed to this practice), make copies of the original and your work to give to my principals and your helicopter nightmare of a parent who, despite the glaring evidence, will blame me for "making you feel the need to cheat," and then I've got to give you another chance. I don't so much mind the latter, as life is about second chances. Let's read that sentence again: …life is about SECOND CHANCES. Not third, sixth, or fifteenth chances. Yet, I'm professionally bullied into enabling you. If you've submitted the same essay four different times plagiarized four different ways, and included a hand-written note that reads, "This was really tough but I did my best!", you're obviously headed for a career scraping carrion off of the freeways; why should I bother reviewing proper MLA formatting with you? In sum, I'm busy. Don't cheat, mmmmkay?
And because you're always looking for some extra credit, I've added a bonus portion at the end of our list:
Don't be a dickhead. This is an invaluable piece of advice, yet some of you don't heed its weighty benefits.
There you have it, The ABCs of Succeeding in High School. I wish you all the best and remember: I'm here to help. Go get'm, tiger.