There's a reason why so many marketing dollars are thrown at ad campaigns portraying Moms as exhausted ladies looking for something to make our lives easier: it's because the majority of us are exhausted and looking for something to make our lives easier.
Long before I had my own children, someone deemed wine the universal symbol of Momdom, and Target our Taj Mahal.
I used to buck these stereotypes because I hate the idea of pigeon-holing Moms, but I've since embraced them because they are my truths. Especially Target. I LOVE ME SOME TARGET. Last year, when I introduced my own mother to the awe that is the red bull's eye, I got to see the place through fresh eyes. It was like watching a toddler take her first steps, or a cat chase a laser pointer. At any rate, it was fun sharing my happy place with my Mom.
It was also interesting to see how one store serves the varying needs of different generations. While I was buying pregnancy tests and pre-natal vitamins, my Mom was looking for anti-wrinkle creams and chatting up the pharmacist about Crohn's Disease medications. Okay, fine, maybe I was looking for anti-wrinkle creams, too…
What I'm trying to say is, much like milk chocolate, Target is perfection. Then someone was like, "let's add some creamy peanut butter to that milk chocolate" and now Target is even more perfect with its addition of CVS/Pharmacies.
For those of you who aren't following:
Target = milk chocolate
CVS Pharmacies = creamy peanut butter
Target + CVS = milk chocolate + creamy peanut butter = PERFECTION TIMES TWO
And my math teachers said I'd never amount to much. HA!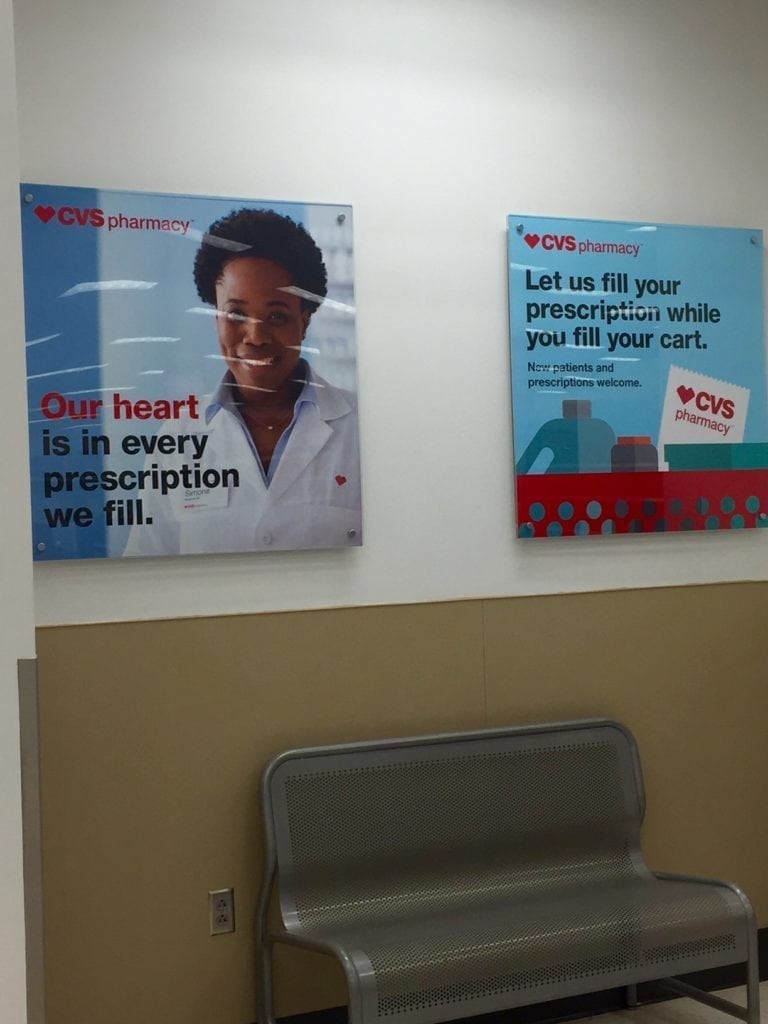 So, former Target pharmacies are turning into CVS Pharmacies all over the country, which means those of you who've previously used Target's, your prescriptions are already there. You'll find a handy dandy FAQ document HERE, and while you're browsing, be sure to check out my personal favorite part of the Target/CVS Pharmacies: their MinuteClinic. As a working Mom of three, time isn't on our side, which is why FAST is a must. The MinuteClinic allows you to get in line ONLINE, which saves even more time. Holy crap does that make me happy! Services include physicals for sports and camps, flu shots and many different vaccinations for the whole family, and things that fall under the wellness umbrella like earwax removal–lookin' at you, Husband Who Never Hears Me. Basically, anything you used to have to wait an eternity for at your doctor's office can be done at the Target CVS Pharmacies.
Have you checked out your Target's new CVS Pharmacy? I'm excited to learn more about what the switch means for my family, and I'll be sharing my findings over the next couple of months.
Disclosure: I'm proud to be working with CVS Pharmacy on the CVS Pharmacy Difference Campaign. All opinions expressed are my own, and all product claims or program details shared should be verified at CVS.com or with the appropriate manufacturers.