I remember the day I got my first ball glove. The smell of leather made me feel like a Major Leaguer, and I attributed the fact that I could out-throw most of the boys to That Glove. To break it in, I lathered the palm in baby oil, then closed it around a ball, securing it under my mattress for a week. In retrospect, I would've been better served to put the big lump o' glove at the bottom of my bed rather than beside me, forcing myself to roll over that bad boy for a solid seven days, but you know what they say about hindsight…
Now that my son is old enough to play coach-pitch baseball, he needed a good glove. Not one of those hard plastic things, but a real glove. He chose a Mizuno MVP Prime Future because it, much like our beloved Pittsburgh Pirates, boasts the black and gold.  I was excited to give his MVP a baby oil bath, but apparently a process called steaming has replaced the oil and mattress method of yesteryear.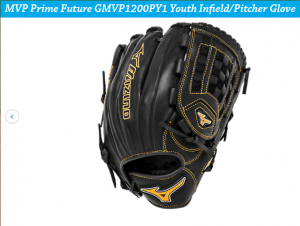 So the fam and I hiked it to the Dicks Sporting Goods in Cranberry Township to see this steaming thing in person. Not gonna lie: I was impressed. I mean, yeah, I'm a little sad that my kids won't get to experience the tradition of sleeping on a hard glove lump like I did–pay their dues, ya know?–but this steaming stuff is super easy and takes all of 5 minutes. And if you get a PRO Series or Mizuno glove, which you should because they're among the last that are still hand-stitched (we take our baseball very seriously over here), your glove can be steamed for free. Parents love free.
Players know the best way to break in a glove is heat and pressure, but apparently nesting on it a la Big Bird is so 20 years ago. A lot of the pros stick their glove in the microwave for the heat, or run it over with their cars for the pressure. I think the latter sounds pretty rude, and I prefer food stuffs only in my micro, so I'm all about the steaming process.
How does the glove steamer work?
1)    The Mizuno glove is wiped down with Mizuno's pre-steam treatment.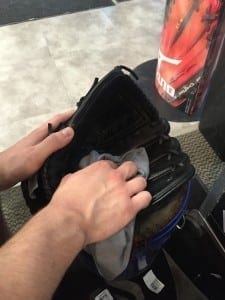 2)    The treated glove is then placed into the steamer. The steaming process takes a few minutes, reaching a temperature of around 130 degrees.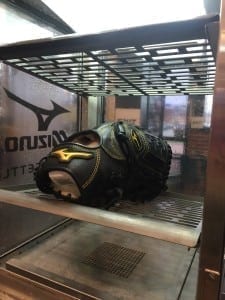 3)    Once the process is complete, the glove is then broken in with a mallet. (Also seems rude, but I think I need to get a grip…)
4)    Once the glove has been shaped specifically to your fit and preferences, the glove is treated with Mizuno Strong Oil, a conditioning treatment that softens and protects the leather. (Along with the obsolete mattress procedure, so, too, is baby oil. Who knew?)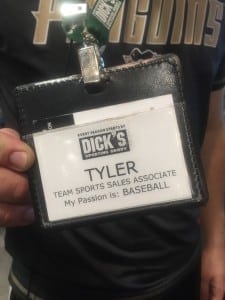 Not all Dicks Sporting Goods have a steamer, so check the glove steaming locations HERE to make sure your store can hook you up. If you're lucky, you'll have a Tyler, a high school senior with a passion for baseball and a lot of patience with kids who ask 26 questions about mallets. And the kids' mother who keeps asking if sticking her face in the steamer will tighten up her pores. We don't get out much, okay?
Happy Steaming! Okay, that just sounds weird…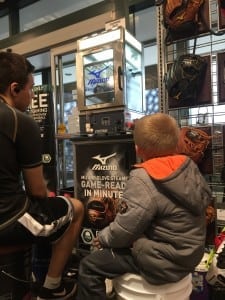 Mizuno knows we're a baseball family, which is why they offered my son a glove and me cash money for this post. Let's Go Bucs!