Update: I write this as my "late summer birthday kid" heads into fourth grade. I've never once regretted red-shirting him and despite initial concerns, my husband has come to see the value in giving our son an extra year to play emotional catch-up. He's still very impulsive and reactionary when it comes to certain things, but he holds it together in school (just not at home, ha!). He's also excelling in math and reading well above grade level at this point. Most importantly, though, he feels confident and enjoys school. Red-shirting, for us, was a big win.
Last year, when it was a mere mom obsession, I began the grueling and emotional toil of whether or not to send my late summer birthday kid to Kindergarten "on time." I put on time in quotes because, technically, no child in Pennsylvania is required to attend Kindergarten. That said, all three of my kids will go, and the girls, with their April and May birthdays, will attend after a year of preschool. But my late July birthday boy will be waiting one more year.
Commonly referred to as "red-shirting," my husband entertained my rants about holding our son back. But at the end of the day, he maintained our son should start Kindergarten after this preschool year, which would mean in the fall of 2014. Our kid is bright. He is a whiz with numbers, speaks well, follows directions as if his life depends on it, and teachers love him. He is a people pleaser. He is a rule follower. He is a typical first-born. Still, I argued he was not ready for Kindergarten.
I know what you're thinking: Woman, loosen the apron strings. But hear me out.
In coming to this decision, I more than did my research. I spoke with other parents, a trillion* teachers, and devoured Malcolm Gladwell's Outliers, a book that focuses on, among other factors, the connection between a person's birth date and success rate.
*a slight exaggeration, but probably 20.
I told you it was a mom obsession! I've learned a lot in my journey, and I want to share it with you in case you're struggling with the same decision. It's not an easy one to make, especially because no parent wants to give her child the impression that she doesn't believe in him or that he's not "smart enough." But as parents, we know what's best.
Is your preschooler ready to head to Kindergarten? Here are some things to consider when deciding.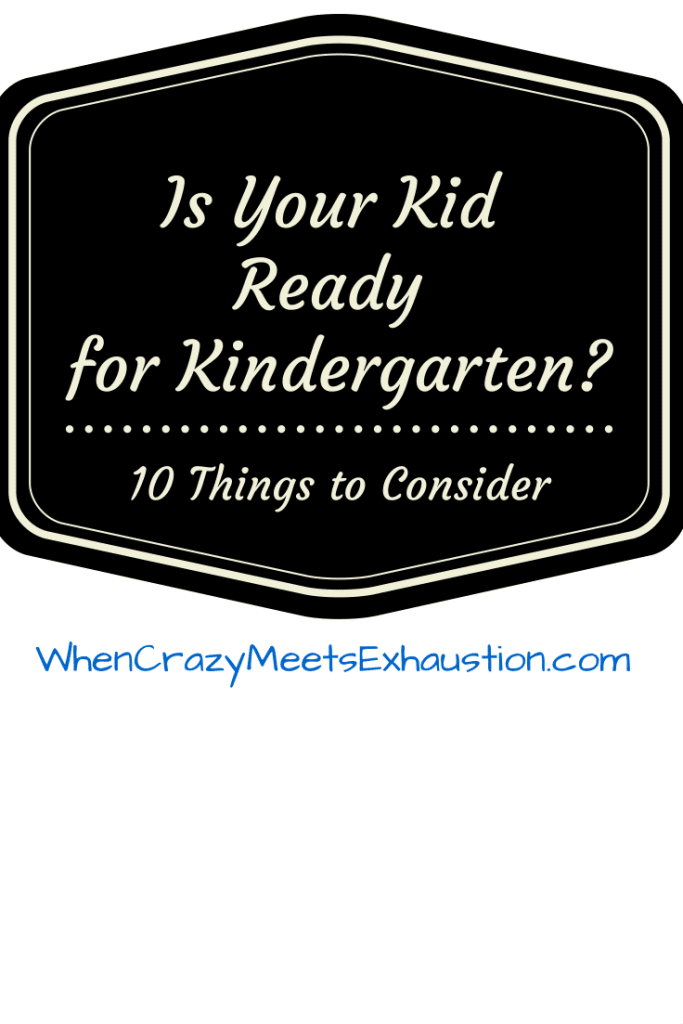 1. Late summer birthdays: My son will turn five on July 26. Most of his preschool classmates are already five, which means he is, in some instances, a full 8 months younger than the other students. That is a huge difference for kids that age. Just like the huge difference between kids who are one and two years old, the physical, intellectual, and emotional gap is sometimes a wide one.
2. Caregivers' input: Babysitters, preschool teachers, and anyone else who regularly spends time with our kids can often see a side of them that we're not always privy to. That's a good thing! A friend's daughter was described as "a leader" by her preschool teacher. Those are not words my friend would use to describe her child when watching her interact with others! Teachers get a glimpse of our school-going kids before we do. Sit down with your child's teacher; ask questions, listen to the answers. Do with the information what you will, but at least ask.
3. Kindergarten teachers: I stalked spoke with elementary school teachers, namely of the Kindergarten variety, regarding when to send my kiddo. Here are some interesting tidbits from my conversations:
ALL of the teachers agreed that they can pick out the late summer birthday students blindfolded. Size, emotional insecurity, ability to vocalize their needs, and usually boys are all "signs" of younger students.
Because the teachers don't know most of the students on their incoming rosters, they first look at the birth dates. One teacher confided in me that she and her colleagues will enact a trade of sorts: "You take the two August birthdays, and I'll take the three July's." I'm a high school teacher and I look at last names of the students' on my rosters; by the time I get them, their reputation precedes them. But in elementary school? The birth date is often the indicator of a student's personality. Not always, mind you, but often.
Teachers confessed that if a student is behind in the beginning of the school year, it's likely he'll be behind at the end. What a crappy start to formal education. He'll be frustrated and, more than likely, not enjoy school. Boo. Hiss.
All but ONE of the teachers pointblank told me to hold my kid back one more year.
4. Emotional aptitude: Does your kid cry at the drop of a hat? Have a difficult time explaining how he's feeling? That's definitely something to consider when sending him off to elementary school, where the stakes are higher than they were when we attended.
5. Higher Stakes: The days of naps and crafts are all but over. Kindergarten's purpose is to prepare students for standardized tests. Not cool, but unfortunately, our reality. Computers, math, very little down time–Kindergarten is no joke, yo, and if your kiddo won't be able to hang–either academically or physically– it may be wise to hold him another year.
6. Full day vs. half day: Here's the deal: Kindergarten in our neck of the woods is a full-day affair. Other districts offer a half-day program which, in my humble opinion, is better for the kid. But better for standardized testing? Full-year. I don't know about your four or five-year-old, but mine has only ever done one thing for as long as a day of Kindergarten lasts: sleep.
7. Sleeping schedule: Does your kid still nap? Consider his energy level mid-day; is he exhausted? Glassy-eyed or in a TV coma? If he is enrolled in all-day Kindergarten, will he zonk out in the middle of a lesson? Many students, regardless of their current sleep/nap schedule, return after a day of school–especially in the beginning of the year–exhausted. That's to be expected in the first month or so, but if it's the middle of the year and your kid is still struggling, maybe his little body isn't quite ready for the big transition.
8. Confidence: My son isn't outgoing. He's not aggressive (the good kind, not the I-will-bite-you-on-the-back-if-you-take-my-toy kind). While preschool has definitely helped, I wonder if this is just his personality, or maybe he just needs an extra year to gain some confidence. In our case, we're giving him a bonus year of preschool, so when he begins Kindergarten, he'll be one of the oldest students, as opposed to one of the youngest.  This will hopefully bode well academically, but also socially. And I'm sure my baseball coach of a husband wouldn't mind if it gave the kid a leg up in athletics, too. But to be fair, sports weren't even on our radar when making the decision to hold our little guy back a year.
9. Miscellaneous: School bus rides, time-consuming projects, strict schedules, etc. The aforementioned are natural results of elementary school. Some of them will certainly bleed over into your home life, limiting the entire family in some respects. While this can be exciting, rather than daunting, if the student isn't ready or willing for Kindergarten, getting him on the bus or encouraging him to complete a diorama (do they still make those?), can turn into a daily fight.
10. Gut instinct: If, after reading all of these ideas, you're still not sure, go with your gut. No one knows your child like you do; don't underestimate the worth of your opinion. You may butt heads with other members of the family or even other preschool parents (like I did…), but who cares? Nothing else matters but your kid, and you know best.
Some of the worst advice I've ever heard was to start my kid in the Kindergarten and then pull him if it didn't work out. I would rather hold him another year than risk having to yank him mid-program. What does that teach him? That if something is difficult, we quit? If it's not smooth sailing, we jump ship? I understand that it could work for others, and I am not judging those who have gone that route, but it's just not for us.
At the end of the day, is it so bad to consider the simplest reason for red-shirting your little one? Let him be a kid one more year. I don't think I'll ever say, "I wish I had sent my son to Kindergarten on time because I hated going to the park before lunch." I realize that's not the most solid reason, but it was a small factor in my decision. Mid-day cuddles for one more year? Yes, please.