What do cleavage, bedroom eyes, and short skirts have in common? They were all introduced to my son this weekend.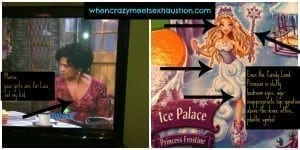 I think if you click on the picture, you'll get a clearer view, but it's late and I'm too tired to troubleshoot.
Anyway, the kid and I are playing Candy Land this weekend and I notice the one princess looks like she's trying to seduce him. I'm not impressed.
So we turn on Sesame Street, a childhood favorite of mine, and there's my girl Maria showing off her ta-tas. Don't get me wrong; Maria's got it goin' on. Muy buena, chica! But seriously, put those puppies away unless you're teaching la ninas to breastfeed.
A post-a-day is killing me. Slowly…killing…me…