I have been popping out babies since 2009, but have been obsessed with the origin and meanings of names loooong before my loins were to grace a tiny human with his/her own moniker. Something about the history associated with names just fascinates me.
For instance, my name is Stephanie. The meaning? Crowned One. Obviously.
Various baby name books and random websites were all I had to quench my Name Game thirst. Until now.
You ever heard of Secret Language Names? Well, allow me!
This is a site that puts old wive's tales and your grandmother's Astrology to shame. Instead of just making stuff up and slapping it on a menu at the local Chinese restaurant, Secret Language Names has studied over 20,000 people for more than 40 years to establish repeating and prevalent personality traits.
Good LAWD that's alotta people (and time!)!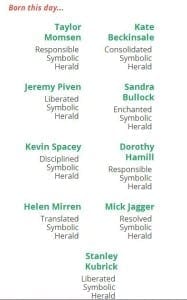 What's that? You don't buy it? Don't be that guy! Let me prove it:
Instead of using names, Secret Language Names relies on birthdays. Mine is November 14, which is coming up in case you're racking your brain for gift ideas. The only complaint I have about this process is that, all of a sudden, I have to scroll through quite a few years to get to 1980. But that's a personal problem. Let's move on.
Here are a few of the personality traits from Secret Language Names that are just so Stephanie:
November 14 people are often involved in guiding the lives of others. They readily see those areas that need improvement, and indeed those deficits they target may be objectively lacking.
I chose education as my profession for a reason!
…they must remember that they are nonetheless operating from their own subjective viewpoint and their input may not always be appreciated. In particular, they may have to hold their tongue where their love relationship is concerned.
I read that part to my husband and he was laughing too hard to comment. But I think I caught, "SO…YOU…" in between his gulping for air and incessant chortling…
It is imperative that November 14 people strengthen their integration with friends, family and society in general. Those born on this day who do so greatly lighten their burden and enjoy a firmer sense of purpose that insures their success.
I'm definitely a people-person. I need to be a part of  a living, breathing unit to feel like I belong. That's not to say I don't enjoy my own company, but I am at my best when surrounded by others.
What I really dig about Secret Language Names is that it essentially reveals a person's natural identity. Sure, we all deviate now and again, but when I entered my husband and friends' birthdays, I found that they, too, were very much aligned with their personality descriptions.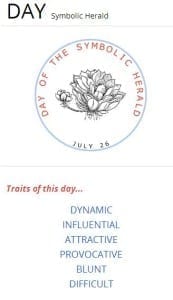 Another cool thing about this site: there is so much to learn! From personality traits to health indicators to additional description and charms of those born within a week of your birth date, it's all here. Advice, personal challenges and other helpful insights are part of the overall description, too.
My favorite part about Secret Language Names is that it can be a really useful tool in learning to deal with others in business or in our personal lives. I know I'm going to enter both of my kids' birthdays and see if my son's current obsession with numbers is heading him toward a lucrative career in…counting?…, and to learn if my daughter will always be this headstrong. If I were a CEO of a business or in charge of hiring people for important roles or positions, I would definitely check Secret Language Names to ensure that they would be a good fit with my company.
Hell, I'm taking down the birth date of the next Mom I meet on the playground. "Ooooh, an April 7, 1982? I'm sorry, we're not a good fit. Good luck to you."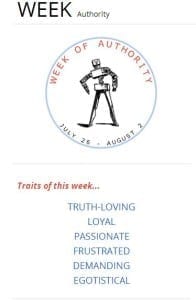 So, single people, the next date you go on? Ask for the birth digits.
Parents, go figure out how to best handle your kids' challenging quirks.
Teachers, having a trying student? Head on over to Secret Language Names and find comparable celebrities and then research them on TMZ to find a method of engagement that doesn't have to do with porn or meth.
Okay, let's nix that last one, but for reals you guys, Secret Language Names is all kinds of awesome.
I was selected for this opportunity as a member of Clever Girls Collective and the content and opinions expressed here are all my own.