This is my very favorite time of the year! The mounting anticipation of Christmas morning, so much yummy food (my Dad's seafood Fettuccini Alfredo is perfection), and neighborhoods dressed to the 9's have me swooning every December. It's an exciting but oh-so busy season. I try to slow time down by stealing a chunk of each day leading up to Christmas and dedicating it something my family does together: a craft, a movie, a short trip. This year we splurged and went to Dennison, Ohio's Polar Express; the look on my kids' faces when the train woo-woo'ed into the station was everything!
My parents' warning that the days are long, but the years are short rang loud and clear in my ears. The first time they said it, I was in the throes of mental and physical exhaustion with my first newborn, and had actually willed the days to be shorter! Looking back, I begin to panic because though it seems like their cautionary words came only days ago, it has been almost eight years!
*breathes into paper bag*
It won't be long before my children are older and pretending they don't know me at the bus stop. I've heard through the teenage grapevine that I'm in for more eye rolling and dramatic meltdowns and less snuggles. As I sob into my Bailey's-laced coffee, I plead with my Mom brain to take mental snapshots of the here and now and file them away for-ev-er.
Then I force my kids to spend more time with me because PANIC.
Fortunately, I live in the Pittsburgh area where family fun abounds. Unfortunately, I live in the Pittsburgh area where winter can keep us indoors for months at a time. Stoopid cold.
Questburgh Escape Room understands my dilemma. They've created an indoor game that throws families together for a solid hour (literally, in a locked room!) where they work as a team to solve puzzles. AND EVERYONE IS WARM.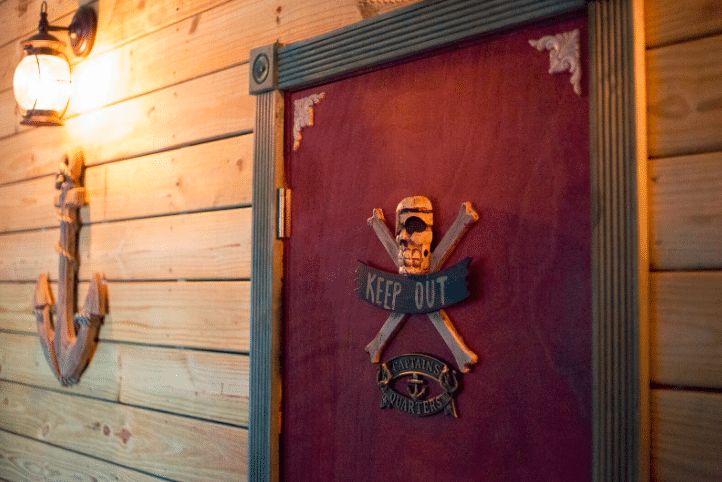 Using only what's in the room, groups of two or more search for the clues that will allow them to escape. It's a super realistic set-up where every detail matters. You have up to 60 minutes to escape, but can work faster to set a new record.
My husband just rolled up his sleeves because now it's a competition.
Older participants can solve a more mature puzzle in the Mafia room where they begin their journey with a bag over their heads. That's the super realistic thing I mentioned earlier…
Younger Questburghers like mine are turned into Pirates in search of hidden treasure:
As parents and educators, my husband and I are pretty excited about an activity that gets the kids moving and using brain power. Perfect for anyone ages five and up, and especially in the middle of a Pittsburgh winter, Questburgh Escape Room offers a fantastically unique way to spend time together. So hurry up and book your session because you're going to blink and the kids will be living states away and only calling on your birthday.
I was compensated to write this post, but all opinions are my own.