Do I have a drinking problem? The simple answer is no. But the more complex the-toddlers-are-always-watching answer could be perhaps??
Before we go any further, please note: I am in no way making fun of alcoholism. It's a disease, one that has punched people I love in the face, so don't think I'm making light of it. I'm not.
I, am, however, making fun of myself. So let's continue, shall we?
This weekend, the fam and I attended a party for my BFF's three-year-old daughter. Unfortunately for my friend, her birthday girl thought 4:30 am was the perfect time to start the party, and by the time her guests arrived, she was in no mood for a celebration. Things were tense. She was angry, frustrated, and on the verge of a meltdown for the majority of her party. And the toddler was in a mood, too.
At one point my pal and I stole away to the kitchen to pour some wine  into nondescript red plastic cups, and, of course, were promptly interrupted by one of the kids. I forget which. They all blend after a while. We whispered some inappropriate things under our breath before returning to the other guests.
The second I put my cup down, my daughter came shooting over demanding she have a sip. I explained that it was Mommy's and that she could have her juice box. As was expected, she threw herself on the floor, crossed her arms over her chest, and screamed. Whatevs. I had my wine.
Jumping to a different scenario:
When I asked my son which cup he wanted to take to the babysitter's, the convo went down like this:
Him: Oh, I fink (think) I'll take a wine glass.
He headed toward the dining room cabinet where we keep our fancy glasses (ones that aren't chipped, don't have pictures of 1970s football players, or have come from a McDonalds promotion circa 1984), until I stopped him:
Me: HA!! Not an option. How about your Cars cup?
Him: It's okay, just take the lid off and I'll drink from the bottle.
Yes, he meant the wine bottle. WTF?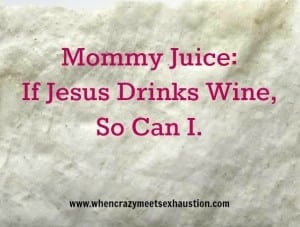 Turns out this is yet another thing to add to the Parenting is Hard list: Little eyes actually pay attention to what's in our cups! Who woulda thunk it?! Try as we might to mask it in a plastic party cup or pour it into a juice glass at dinner, the kids know wine. Would I be a better parent if I called it Mommy Juice? Would I be the best parent if I didn't indulge in a glass of red at Sunday family dinners? Is it really that bad that when the Weather Channel mentioned a blue moon my kid informed everyone that Mommy likes her Blue Moon with a piece of orange?
Eh.
How is this related to Project Optimism? I've been wondering that, too. Hmmm…because I refuse to lie to my kids or shelter them to the point where they'll be tempted to take a swig from the Communion cup at church just to get their buzz on? If Jesus drinks wine, so can I.