It's no secret that readers leave my blog covered in residual sarcasm and tongue-in-cheek humor, some of which is completely inappropriate and off-color. It's how we do 'round these parts.
But this weekend, I came across a new blog, courtesy of my blogging buddy Mama G. who does her hilarious thang over at Frazzled Shell, that made me want to set the sarcastic 'tude to the side and really focus on–are you ready for this?–what's in my heart.
Need a minute to come to terms with the fact that I have a heart? I'll wait…
The Happy Wive's Club, founded by Fawn Weaver, is comprised of over 100,000 ladies from more than 100 countries. The goal of HWC is to promote happiness, specifically the kind that results from being in a strong marriage. Did you know that there are still couples who enjoy being married? They, like, spend time with one another and take their vows seriously. Whoa.
I consider myself a feminist and Taylor Swift can bite me so I was a bit leery of HWC at first. I was not about to join something that made me feel like I was supposed to worship my husband as a deity or stop voicing my opinions because "it's not my place." I was pleasantly surprised to learn that this club isn't about rank. It's not about "knowing your place." It's about teamwork. It's about being equals and loving life together.
Happy Wive's Club is basically a sunny spot on the Internet that promotes counting our blessings, one in particular that we–especially ME–often take for granted: the husband. I promise it's not like a bad 1950's stereotype; they're too legit to quit, and that's why I joined.
There are zero rules to join or be part of the club; there is only inspiration and warm and fuzzies. And I'm a sucker for a good quote, and there are a lot of those, too. The blogging HWC ladies maintain a running list of the reasons they love their spouse; sometimes the lists are the posts themselves, other times, they're just a few additions at the end of an unrelated post. I anticipate having difficulty remembering where I left off on my list, so there's a possibility mine may look like the following, but I'm going to try!
1.
2.
6.
19.
245.
In honor of today's Project Optimism and in honor of the man who didn't vomit when I asked to look at my placenta after delivering our daughter (what?! I didn't ask to take a bite of it–calm down), I present to you the beginnings of a list that I hope will become a recurring thread of happy woven into the otherwise snarky fabric of my blog.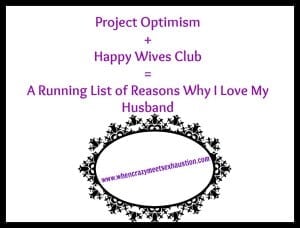 1. My husband takes the kids with him to the grocery store while I tutor from our home on Sundays. If you have kids under the age of five, you understand why this is #1 on my list.
2. The hubs buys me fresh flowers so regularly that our son has begun asking if I need "new flowers."
3. When long hours at work keep him, my husband turns down invitations to golf on the weekends because he has missed us.
Even though it seems like this post is sponsored by the Happy Wives Club, I assure you it's not. I just like what I see and wanted you to know about it. If you're interested, check them out: www.happywivesclub.com.
Happy Monday, pals!