Happy Monday, pals!
I'm feeling especially cheery and optimistic this morning which isn't how I expected to be feeling after my blog was tampered with last week. (Side note: my email subscriptions to many blogs–maybe YOURS!–were severed as a result. I've not been ignoring you; I'm making my rounds to re-subscribe. Sigh.)
But that's not what I'm focusing on now. I'm focusing on the warm sunshine streaming in through my semi-clean windows, my lazy dog hanging out by my feet, and the fact that I remembered to wash my daughter's blankie while she is at the babysitter's, thereby successfully thwarting World War III: The Diva Wants What the Diva Wants.
Maybe I'm on cloud nine because I celebrated the impending arrival of a gal pal's baby girl this past Saturday with some of the people I love most in this world.
Perhaps I'm walkin' on sunshine because my husband is as giddy as a school girl at the idea of attending an upcoming Rolling Stones concert. For whatever reason, he enjoys watching Mick Jagger strut across the stage like a broken chicken.
I can't put my finger on what is responsible for the extra pep in my flip-flopped step, but I know having beat the Laundry Odds has something to do with it.
Laundry Odds? you ask.
Laundry Odds, she echos.
She done lost her mind you conclude.
Well, duh, she answers.
Get a load of this: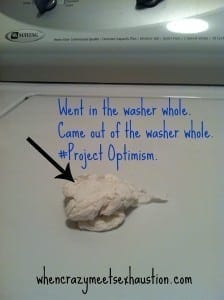 Laundry Odds, beaten.
*****************************************
Be sure to stop by tomorrow when another funny Mama Overshares a story on a rather serious subject: explosive diarrhea. If you've ever said, I'm going to poop my pants. Why is the nearest restroom 20 miles away? then tomorrow is for you!!*
*If you've never said that, how nice for you and your colon. Read about it anyway.**
**Why just read about it?! Be about it! Check out my Oversharing page for details about how you can contribute your story and make the rest of us feel normal.