Americans tend to be way too superficial. Didn't all of our parents teach us it's what's on the inside that counts? And I'm not just saying this so everyone stops staring at my chin zit.
Each year, we waste 10 million pounds of food deemed unsellable because it doesn't meet our cosmetic standards. "Cosmetic standards" like oh hey, that tomato isn't red enough and it has a little bruise so NO WE WILL NOT PUT IT ON OUR SANDWICH.
Seems silly, especially when you consider how many people are starving for a lackluster red-hued bruised fruit.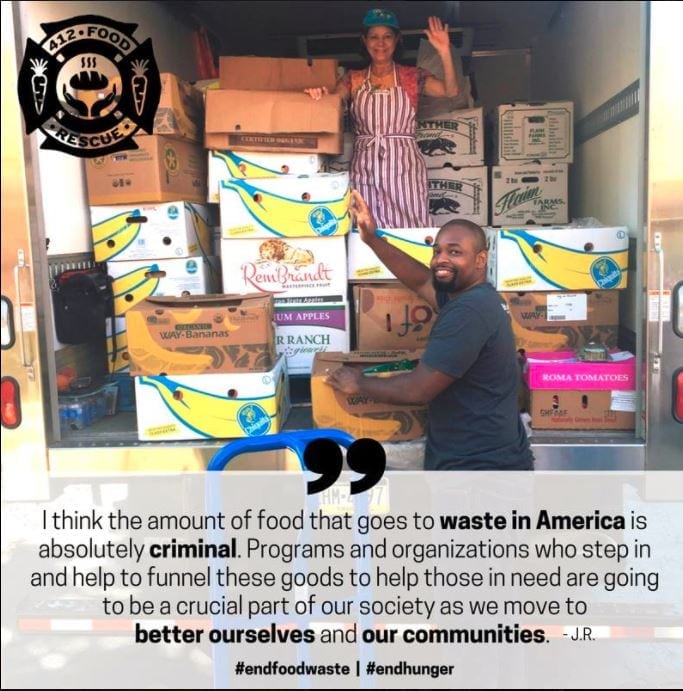 Fortunately, the @PGHCityPaper's best 2017 nonprofit nominee Pittsburgh's 412 Food Rescue's Ugly CSA program is reducing food waste by creating new markets for previously unsellable produce. The program benefits farmers and preserves the resources that went into food production. It also puts fresh farm-to-table foods in my belly and that's a delicious thing.
The first Ugly CSA program was piloted in 2016 in partnership with Penn's Corner Farm Alliance and has since expanded into its second year this summer. Do you believe it's already sold out?! We're making real progress here in Pittsburgh, people!
Speaking of partnerships…
412 Food Rescue and La Prima Coffee are teaming up!
To celebrate their partnership, they're throwing a party and you're invited! On August 10th at 10am, head on over to La Prima Espresso Bar in the Strip or at Nova Place for some pastries and java. At either of these locations or online, you can purchase a bag of their Hero Blend. $1.00 from every bag sold will be donated to 412 Food Rescue to fund their continual and relentless war against hunger and food waste. BONUS: if you buy in-store, the beans will be ground for you on site. Talk about fresh!
When: August 10, 2017 @ 10am
Where: Strip District, Nova Place, or HERE ONLINE
Why: Because you love coffee and you're going to buy it anyway, so may as well make your purchase count for something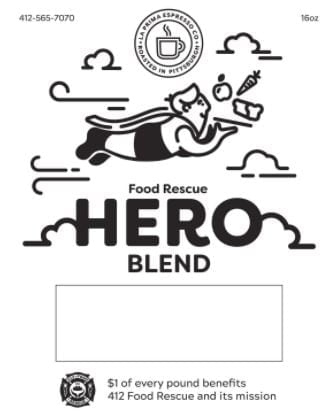 You can be a Food Rescue Hero!
Food rescue heroes transport food from donors to nonprofit partners. Pick-ups happen daily and can be as quick as 30 minutes of your time.
You can volunteer as much or as little as you like. 412 Food Rescue alerts volunteers to available "rescues" and they respond to the ones that are right for them. Download the app (available for iOs or Android) to get alerts on rescues near you. Instructions for using the app can be found HERE.
The organization needs help with everything from food rescues and harvesting of produce, to administrative tasks and event planning. Email info@412foodrescue.org to inquire about how you can get involved.
Hey, College Students!
As our college students head back to Pittsburgh next month, there are ample opportunities for them to get involved as well. Students are encouraged to reach out to learn more about starting a 412 Food Rescue chapter on their campus OR they can join an existing organization on campus. If majoring in a food-related field (think: nutrition/dietetics, public health, education, culinary arts, etc.), students could become Cooking Matters instructors.
There are so many ways to get involved and help #EndFoodWaste. Look for that hashtag along with #FoodRescueHeroes and #412FoodRescue on social media to learn about the other ways the organization is helping address food waste in Pittsburgh. For more information about 412 Food Rescue, check out my date with Andrew McCutchen!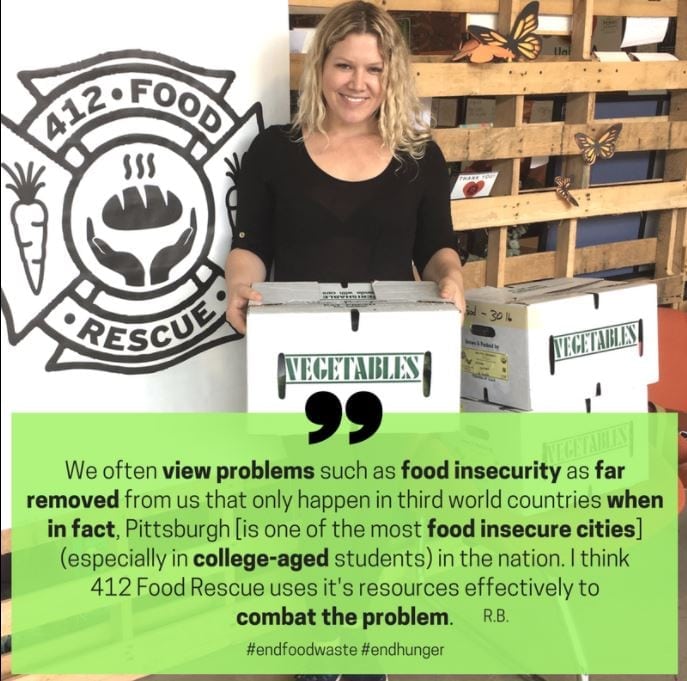 I was compensated for this post, but I only take the money if I believe in the organization. #EndHunger