This post was sponsored by PINCHme as part of a Blog Blast Activation for Influence Central. I received complimentary products to facilitate my review
Any time I'm on the hunt for something new, I comb through online reviews to help me decide how to spend my money. With so much of my shopping being done in a cyber store these days, I rarely see or hold the thing I'm buying before I actually buy it! That may sound crazy, but those reviews are so helpful that I feel totally comfortable trying new products based on other shoppers' genuine feedback. I've long envisioned a shopping experience that goes something like this:
"Hello, miss!" My store never ma'am's me. "I see you're interested in that there product. Why don't you step into the conversation room where you can discuss this product with other people who have already tried it? We serve hot coffee and provide childcare! After you've asked all the questions you'd like, take the product home and use it. If you love it, pay us for it; if you don't, bring it back. Thank you for shopping with us and your back side looks killer in those jeans. Have you been working out?"
I mean, if I can test drive a car before dropping my money, why can't I test sit a couch? Just makes sense to me.
It must make sense to the fine people over at PINCHme, too, because they've created a platform that sends us free samples of stuff we actually want in exchange for our honest review.
Take a minute to let that sink in: you get FREE STUFF you were probably going to buy anyway, and all you have to do is share your two cents about said free stuff.
I'm in.
Here's how it works: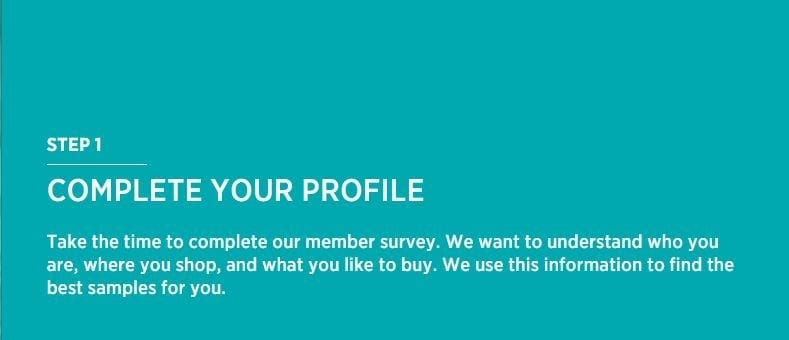 So, you fill out information about yourself. Got it.

Then you choose samples you'd like to try FOR FREE. Set a reminder on your phone–you don't want to miss release day!

Here's where you come in handy: after using your free samples, offer feedback that will help other people make decisions about what new products to try.
See how you're a helper?!
PINCHme is making Tuesday my new favorite day of the week: new products are released every Sample Tuesday. Parents and pet owners loved this past Tuesday, October 20 because this goodness was released:
Scotch-Brite Extreme Scrub Sponge 
Gerber Good Start Gentle for Supplementing Formula
Iams Dog Food $5 off Coupon
Energizer Playtex Sport Tampons
Gold Bond Moisturizer
Pro Plan Cat Food
Tidy Cats Cat Litter 100% off Coupon
Mead Johnson Enfagrow Milk Drink
Kellogg's Fruit and Nut Bar
Nexcare Tegaderm Bandages
Charlee Bear Crunch Dog Treats
Secret Clinical Strength Deodorant
Fisher Nut Nut Exactly Popcorn
Hurry and sign up now so you have dibs on the products that tickle your fancy. If you're a pet owner or an expecting/new parent, you'll find TONS of stuff you love so get to it!
Click HERE to sign up!
Oh, before you go, why not enter this giveaway to win a $100 Amazon gift code?
*I-C will randomly select one winner from all program entries and will handle fulfillment of the winning prize. Contest ends on November 13, the day before my birthday if you want to send a gift*
Hook up with PINCHme on social media so you don't miss any of their new releases or opportunities: