Do you find that sharing one too many personal details brings you endless delight, much to the dismay of your parents or spouse?
Is your goal in life to make those around you squeamish and/or run to the bathroom to either laugh-pee or vomit in response to a story you've told?
Do you believe embarrassment is a relative term?
If you have answered yes, sure, maybe, or I don't know to any of the aforementioned questions, you are an Oversharer by nature and I love that about you. Now hurry! Go to my OVERSHARING PAGE <—- just click those words, mmmkay? to submit your funny ha-ha. You will be featured right here on my blog which has won no official awards and boasts an audience of 16 people.
Not enough to interest you, eh? How about if I told you all of the cool kids are doing it? Here's proof: Dani from Martinis and Minivans is here today. SO THERE!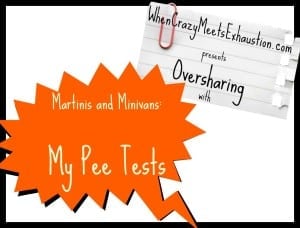 My period was three days late. This was the first month my husband and I were trying and people had warned us that it can take months when you first get off the pill to get pregnant. So when the picture on the stick showed a positive sign, I did what every freaked out girl does – I took out the second, third and fourth test and took them all at the same time. Then, I did something that most freaked out girls don't do. I drove directly to the OBGYN's office.
Yes, I drove right there without even an appointment. I walked up to the receptionist and said, "Uhmmm…I'd like a blood test because these say positive and there's no way that can be right." Then, I did the grossest thing you can imagine. I dropped my pee sticks on her desk. Yep, dropped them right there for her to see. She stayed very calm, looked down at the sticks, and said, "You're pregnant, now would you please remove those?" I sheepishly picked up the sticks as she started using the antibiotic wipes next to her to clean her work area. I proceeded to go on and on to her about how there was no way I could be pregnant and that I desperately needed a blood test. Thankfully, she called a nurse (probably more for protection against the insane girl who wouldn't leave her alone) and they quickly took me in the back to do a blood test. However, while taking blood the nurse did say to me, "You know sweetie, you are pregnant, you're going to have to accept that." No, no, no, why did they keep talking this nonsense? I mean, I knew I wanted to have a baby, but heck, I thought I would have a few months to get used to the idea.
As I was leaving the dr's office, the receptionist told me to go buy something for the baby while I wait to hear from her. They would call me in about an hour.
That was the longest hour of my life. I walked around Babies-R-Us and would pick up an item, then put it back. I repeated this process for over 59 minutes. As soon as the clock showed one hour passing, I dialed the phone and called the office. The receptionist starting laughing when I told her my name. She simply said, "I told you so."
And that is how I found out I was pregnant – bum rushing a doctor's office, dropping my pee sticks on an innocent party's desk, then looking like a shoplifter at a baby store. And you know what? I wouldn't change a thing. It was the best day of my life.
Danielle Herzog is the blogger behind Martinis and Minivans, a blog for anyone who has ever needed a martini after driving a minivan around all day. Or for anyone who has just ever needed a martini! A New Yorker now living the Midwest life as a somewhat sarcastic writer, mother and wife, Danielle has been a freelance writer for over seven years. Her work has been featured on The Huffington Post, AOL.com, What to Expect.com and Scary Mommy. She also writes a weekly parenting blog post and parenting advice column called "The Sassy Housewife" for the Omaha World Herald's site, Momaha. If it's part of her life, she'll write about it, except if it is about her mother, she promised her she wouldn't do that…
Connect with Martinis and Minivans on Facebook, Twitter, and Pinterest.