It's been too long since I've added to my Oversharing series, so let's just get right to it, shall we? Today we will be discussing the time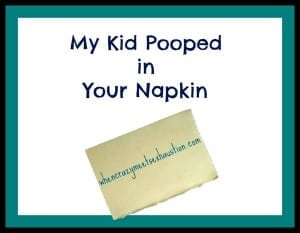 Okay, so maybe it wasn't your napkin, but it was someone's…
The year was 2009. My son, barely 3 months old, had accompanied me and a few family members to a baby shower. It was a classy joint, floor to ceiling sparkling windows with fresh flowers adorning every table and, of course, linen napkins.
Everything had been going well. I actually got to enjoy a hot meal because my angel snoozed in his car seat, and when he did wake, everyone wanted to take turns holding him which meant I got to pay attention to all of the adorable gifts the Mama-to-be was unwrapping. I'm a sucker for a personalized onesie.
And then I smelled it.
Anyone who tells you that breastfed babies' poop doesn't stink is an egregious liar.
Holy. Shit. Literally.
Of course the classy joint didn't have a classy changing table, so I was left to my own devices and a bench in the ladies' room. Luckily, half of the women at the shower were in the bathroom with us, and at one point, I believe I had 5 different helpers.
"I need another wipe!"
"Pass the Buttpaste!"
"The sock! The sock is in the poop!"
After 25 minutes and one outfit change later, my little man was all clean and once again snoozing. All I smelled was sweet success.
Until he crapped himself again.
What's a new mom to do when her poop monster has soiled the only remaining clean outfit? One may say to wrap the baby in his blanket and be about my business, but please note that he also crapped on his blanket. I could have left, but dessert hadn't been served yet and I needed to know who bought the Mama-to-be the gorgeous wooden cradle. Clearly, I was stuck.
So I did what any good parent would do and a I fashioned a little outfit out of the lovely cloth napkins from our table. So all of you cloth diapering Mamas, bow down. I reinvented cloth diapering that day; I think a total of 3 napkins went toward My Cause, and while I felt bad about it, it was necessary. Very, very necessary.
And then he crapped in the napkins.
By the time we arrived home, I had a week's worth of soiled clothes stuffed in the bottom of my diaper bag (note to new mothers: always keep a few plastic grocery bags on your person, never know when you might need them…), and a kid who was wearing nothing more than a diaper and a bib.
I'm still friends with the formerly known as Mama-to-be, currently known as Mama-to-two, and I do believe that she reads my blog. Perhaps she won't come across this post and I can remain the oblivious gal pal. However, if she does, in fact, read this I would like to take this opportunity to offer my sincere apologies for my kid pooping in your napkin and for me subsequently stealing them. I figured you would want me to have them.