What's shakin' party people?!
Before we get into today's Oversharing piece, let's talk about the awesomeness that is my new blog design! I'm so super happy with it (hell-to-the-NO I didn't do it myself!), and if you need some work done (Botox not included), click the AKay Web Design button at the bottom of the page. Andrea and crew are phenomenal. If you just need small fixes or want to optimize SEO and other things that I don't understand, check out my girl Julie at Fabulous Blogging. She offers FREE tips on her blog, and it just so happens that yours truly is over there today sharing my first year o' blogging experiences. Click HERE to read it and get some freebies from Julie the Great!
And now, the moment you have all been waiting for (unless you're my dad who was WARNED not to read this–Daddy, look away!), today's Menstruation Madness! Frazzled Shell's  Michelle has traveled the whole way from the UK to make you giggle like a preschooler that just farted.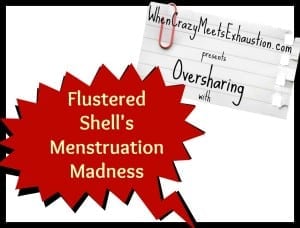 I started my period when I was 12.  My pregnancies have been the only respite I have had from 'The Curse'. Day 1 of my period – don't speak to me, don't expect me to walk, talk and – bitch, please – don't expect feeding.  Just a little bit of TMI to let you know – it's THAT bad.
The other month, I wake up. The period had started the evening before so 'Day 1' was that morning. Normally I get a 5 second window of opportunity to reach the toilet in the bathroom. Not so that morning.
I step out of bed and 'WHOOOOOOOOOOOOOOSH!'.
Me: 'Shit!'
I cross my legs as tightly as I can and waddle out of the bedroom, past amused-looking sons, down the landing and into the bathroom.
By the time I get to the bathroom – thankfully which has non-slip, moppable floors – it looks like someone (me) has been murdered.  I open the door, call my husband – bring me some clean (black!) knickers and sanitary pads please.
He comes in and pales at the sight of the bathroom. I'll need a shower straight away, I say. He says he'll take kids down and feed them breakfast. I clean up, have a shower and go downstairs.
I am in absolute agony when I arrive down to find my kids eaten and dressed.  I pop two Co-codamol and an Ibuprofen and I shrug my shoulders at my husband as I sink onto the sofa, my apathy silently communicating that 'You'll have to make the lunches. I'm doing nothing today'.
My youngest son, who is 6, approached me and stroked my hair. He's holding his fleecy blanket and drapes it over me. Bless him.
Him: 'Are you ok now, Mum?'
Me: 'Yes sweetie.'
Him: (Solemn) 'Don't worry, I won't tell my friends in school that you shit yourself.'
(*Note – what this actually means is 'The minute I get on the school yard, I am going to tell ALL my friends, that you shit yourself, and I will use the word 'shit' too, quite possibly within earshot of other teachers, and probably other parents too'.)
Me: (Bolt upright) 'What did you just say? Potty mouth?'
Him: 'You shit yourself. I won't tell.'
Me: 'I didn't 'shit' myself!'
Him: (Indignant) 'YES YOU DID! I saw you, you were running to the toilet with your legs crossed, and then you shouted 'OH JESUS CHRIST ON A BIKE!' and then you shouted Dad to bring you new knickers. You shit yourself!'
Me: 'No I DIDN'T!!'
Him:  'What then?'
Daughter:  'I think Mum got her period.'
Me:  'Shut up!  Bloody hell!  Is nothing sacred?'
Other son:  'What's a period?'
Daughter: 'Well…'
Me:  'Shut UP!'
My husband at this point, was crying tears of mirth silently in the kitchen, and took me to one side to clarify that as he was leaving the bedroom armed with my clean underwear, our son had nodded at him and said 'Has she shit herself, again?'
AGAIN?
So, weighing up explaining menstruation to a 6-year-old against letting him (and the rest of the infant department) think I'd crapped myself – you know what won out that morning, don't you?
Pfffffffffffft.
*******************
Michelle is a nearly 37-year-old frazzled Mum of four who blogs at Frazzled Shell. She lives on a small island in North Wales, UK, which is nowhere near as exotic as it sounds (sadly). She loves cooking and being humiliated by her children.
Show her some love on her brand-spanking new Facebook page HERE 
or
on Twitter: @luckygoldcat