It's official: my dad has begun reading my blog. This is exciting because the Daddy's Girl in me wants nothing more than two thumbs up from the guy. This is also terrifying because I intend to continue discussing intimate details of my life, such as bowel movements, and I fear he may never want to be in the same room with me again. Meh. I'm rolling the dice.
In honor of mi papa jumping on the crazy bandwagon, I bestow upon you: A Story About My Dad. He will hate this. Too bad.
When I was maybe 8 or 9-years-old, I was coloring with a friend. It was summertime and we were fashioning some pretty amazing beach artwork. And that's when inspiration hit. I closed my eyes and summoned the image. The bright colors. The palm trees. The crab. My hand moved faster than my brain and before I knew it, I had created an exact (elementary school) replica of my Dad's favorite t-shirt: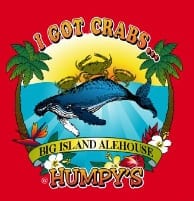 I was *extremely* proud of my picture! I knew I wanted to give it to dear ol' dad, so I wanted to write something special on it. And special it was. Across the top of the picture, in my very best Crayola handwriting…
Delighted, I raced down the stairs, straight to my father's quarters, AKA: the couch. I proudly interrupted whatever television show would soon be forgotten after the unveiling of my masterpiece.
"Look daddy!"
I handed him the drawing and waited. And waited some more.
He made some guttural sound and then crinkled up the piece of paper that I had poured my heart and soul into. I died a little inside.
"Waaaaaaaaaaaaa!!!!"
I ran up to my bedroom and threw myself onto the floor because that's what drama queens do.
I then overheard my mom, "What is going on?!" My dad explained the picture; I vaguely recall the un-crinkling of the paper and then my mom again:
"Bahahahahahaha! Tom, she has no idea what this means!"
Murmurs. Whispers. Giggles.
That day, my parents had the distinct privilege of explaining pubic lice to their 4th grade daughter. They made me promise that I would always protect myself against such diseases, and I vowed that I would because I certainly valued my special girl parts. And I've made good on my promise; to this day, I practice the Public Hover: this crab-free behind never touches a public toilet seat.