"I participated in Influencer Activation on behalf of Mom Central Consulting for Baby Mantra. I received product samples to facilitate my review and a promotional item to thank me for participating."
In 2009, I gave birth to the child with the most sensitive skin EVAH. He had beautiful, porcelain skin, easily ravaged by sun, wind, heat–you name it. As he was the first and only grandchild at the time, all the grandparents fussed over what kinds of soaps (expensive ones) and lotions (none) we should use on him. It was a big game of trial and error to find what would clean him, yet not irritate him. Protect him, but not harm him. It has been more than five years, and while it's still a bit of a struggle (don't exacerbate the leftover eczema in his creases!!!!), our special soaps and no fragrance lotions have been doing the trick. Until now.
Turns out a five year old doesn't always go with the program, if you will. Doesn't always go with the flow, especially if the flow doesn't have bubbles.
I'm talking bubble baths, people.
My parents have a jetted tub and when those jets are turned on with a little bit of bath soap, look out! The boy has been enjoying the bubble baths; his skin has not. We've got patches of dry, red, itchiness happening and with the colder weather a'comin', and the heat inevitably pumping through the house, the timing could not be worse.
Just as I'm stressing to get this mess under control, I stumbled upon Baby Mantra products. I was leary because I've been using essential oils like a good little tree hugger, and wasn't sure I'd want to take a chance on something else manufactured.
Gotta tell ya: I'm glad I did.
Created by two sisters on a mission to provide safe and ecologically sound skincare, Baby Mantra is a certified natural, cruelty-free and gluten-free baby skincare line that offers environmentally conscious products from ingredients to packaging. All products are made in the U.S. and are inspired by all-natural home-based remedies.


Not only is the 3-in-1 bubble bath + shampoo + wash easy on my son's skin, but it makes some pretty rad bubbles. And that makes one happy boy.
My oldest daughter doesn't have the sensitive skin; she has the crazy hair. She always has…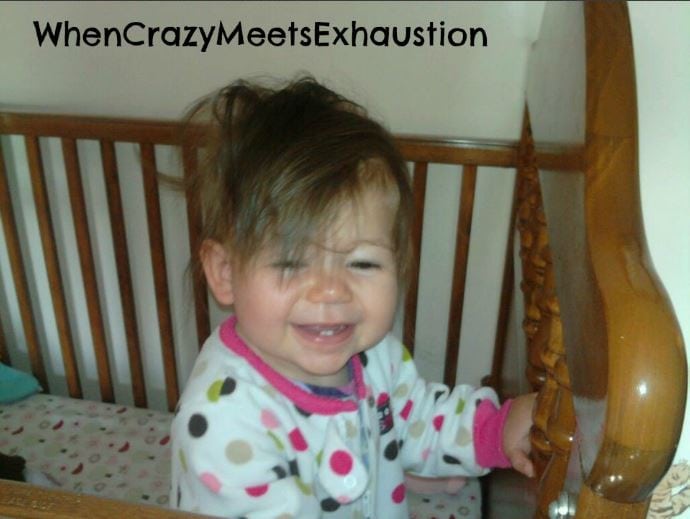 Sorry it's blurry, but that's her: a blur. And her hair takes a beating. It's much longer now, which requires the dreaded combing of the hair, and if you have a toddler with locks, you understand how the sight of a comb can make them morph into a WWF wrestler. This child has freakish strength and slick moves when she's trying to avoid the comb, and who can blame her? Knots hurt! I've tried to the spray conditioner, but it left itchy hives and rashes on her little neck. Boo! Hiss! But now this:
This leave-in conditioner means her hair is no longer a rat's nest, and it is sooooo soft. I'm also done putting her in a scissor hold to comb it, so WIN!
And then there's my peanut. She has a touch of her brother's sensitive skin, a pinch of her sister's crazy hair, and a lot of chubby baby fat that I can't keep my hands off of. I was truly impressed by how the newborn shampoo and body wash almost coated her in a protective little layer of softness. I know that sounds cheesy, but it's true!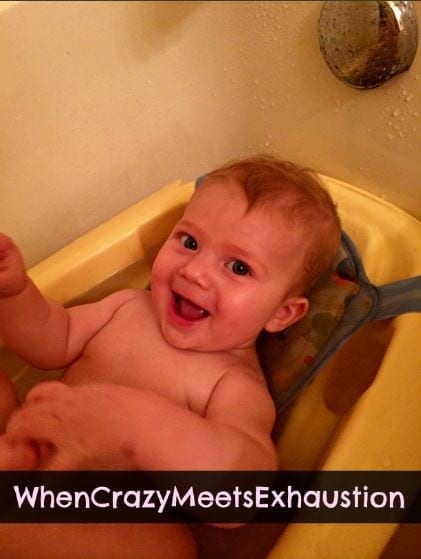 I'm also crushing on the calming massage oil. It's not thick or greasy, and it smells great, too. So maybe I've swiped it and kept it for myself. What's it to ya?
If you want to try Baby Mantra products, you can find them at the following locations:
If you'd rather get social with them, check'em out on Facebook and on Twitter @BabyMantra!