When I was pregnant with my son, I envisioned a little olive-skinned babe with deep, dark eyes and wispy brown hair. A mini of my husband, if you will. And because genetics claim the grandfathers' genes are predominate, and because both biological Pap-Paps boast those physical attributes, it just made sense for me to picture my boy that way.
And then this:
And a year later, this: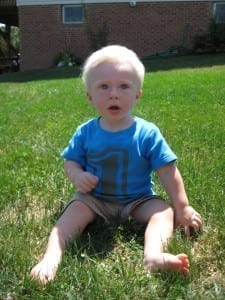 Do you have any idea what that kind of paleness does to a mother's ERP: Electromagnetic Radiation Paranoia?
Summer months had always been vacations, lounging by the pool, and enjoying the small window of gorgeous western Pennsylvania generously bestowed upon us. Enter Whitey McWhiterson and summer became buying sunblock in bulk.
Trouble with sunblock is that it washes and sweats off way too easily, so I needed reinforcements. And I found them in adorable wetsuits for my main man. His pasty skin is sheathed in an almost full-body bathing suit, protected from the sun and rashes. The latter was a huge draw for me because since his sister's increasing affinity for creating homemade body scrubs out of sand and rocks, my son needs all the protection he can get.
Because he is almost four and I monitor his iPad obsession like a good mother (your six hours are up–let's play!), we're outside an awful lot. I can only keep a 4-year-old boy under an umbrella for so long (6.5 seconds, to be exact), so he wears his wetsuits even when putzing around the yard with Dad or swinging at the park. One could say I'm bit psychotic about the sun. One would be correct.
The beach is a completely different story. The sunlight reflections off of the water are almost enough to send me into palpitations, but I feel so much better knowing that he's covered from his neck to his knees in these things. Now if we can just get a wetsuit mask, that would be fantastic.
 This is a sponsored post, but all opinions are my own and my son legit wears a nearly full-body swimsuit/wetsuit.