I had a whole post ready about how I was going to beg my husband to impregnate me, but then my son went and said some of the funniest things and I just have to share! Plus, we're a little pressed for time today; we're traveling to a friend's house for the ultimate play date: five kids, three adults, one ornery cat.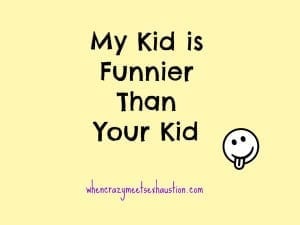 When my daughter wakes up, still confined to her crib, she begins babbling to herself. She calls out all of the things she sees in her room: Sockies! Purple walls! Ella's shoes!
Normally, she'll call for my son who then goes in to greet her. This morning, he climbed in her bed and started quizzing her on her shapes. He contorted his little fingers into circles, squares, etc. Much to his dismay, his sister kept naming letters instead of shapes…
Boy: What shape is this?
Girl: E!
Boy: ELLA! E is NOT a shape!
Girl: O!
Boy: Okay, I'll give you a shape that starts with the letter 'O.' This is an oval.
Girl: Oooooooooo
Me: Dude, how did YOU know oval started with the letter O?
Without missing a beat and looking at me like I'm a moron: I'm very smart. Didn't you know?
After school yesterday…
Boy: So many girls in my class love Justin Beaver.
Me: Justin Beaver, huh? Yeah, a lot of girls love him.
Boy: I DON'T! I think beavers are ugly.
Me: Good. Let's keep it that way, shall we?
I plan to remind him for his aversion to the Beaver right around his 16th birthday…
For more funnies from the kiddos, check out the Conversations with Toddlers page, and feel free to add your own!
Happy Friday, pals!