Years ago, when I started birthing humans, my hair stylist warned: "your hair will never be the same." I didn't know what she was referring to at the time, but I've come to learn "never the same" translates into "dry and curly hair" for me. I've always had a good, easy head of hair; wash, dry, done. Now, my hair does this lovely frizzy-because-it-wants-to-be-curly-but-I-don't-know-how-to-care-for-it thing, and I have no idea what to do with it. Social media has me questioning whether or not my hair is even curly in the first place, and I feel like a proper moron for not knowing just by looking in the mirror. TikTok has turned the curly girl method into one of the most popular ways to maintain curly hair. But if you're like me and don't have a clue what to do with your lump of frizz, let's figure this out once and for all. Or at least until menopause and my hair changes again…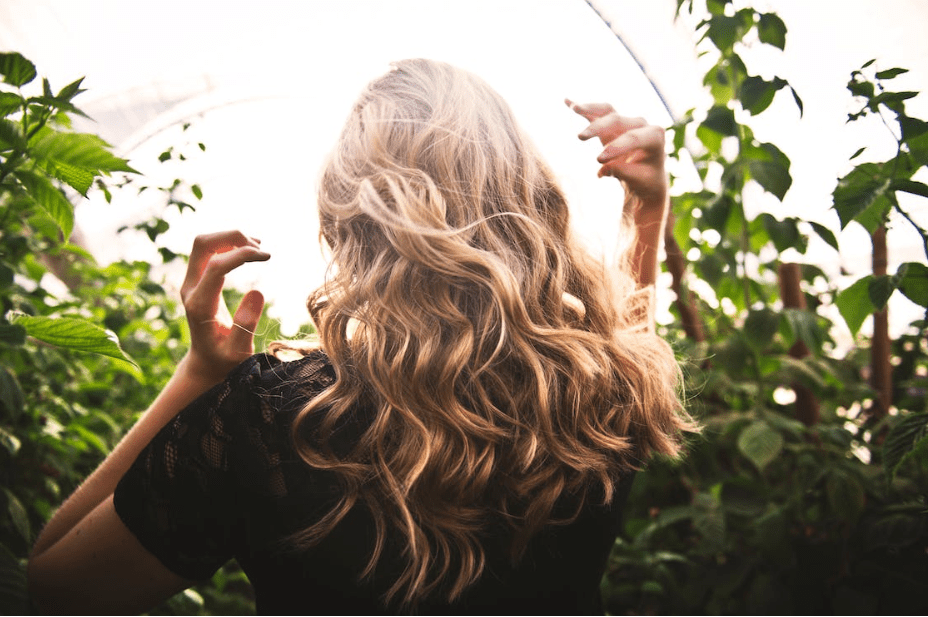 While self-care is important for hair, I won't lie to ya: I'm super lazy when it comes to styling my hair. I love the look of soft curls, but there's no chance I'm curling my hair every day. Now that it's curly/wavy/whatever it is on its own, my hair straightener fights an uphill battle and I'm inevitably left with a bunch of fly-aways and that "you missed a spot" kinky look in the back of my head. Champagne problems, right?
Anyway, I'm told I need to get to know my new hair. Whether you're a confused white girl like me or you're figuring out a new hair care routine for 4B hair, the best way to care for your hair is to really know it. Let's start by figuring out if it's actually curly. 
You might have curly hair if…
Your

hair

becomes voluminous in humid weather. The reason this happens is because your hair isn't getting the necessary hydration, so the cuticle of your hair will swell up trying to absorb the moisture from the atmosphere. Hair becomes very difficult to tame after this and brushing it does NOT help.

Despite the straighteners, your hair just won't stay straight. There are always some stubborn pieces that won't curl properly around your face. And if you have these, there's a good chance your hair is actually naturally curly and it's fighting straightening in the first place. The curly girl method could be a good option for you.

You find

your hair unmanageable,

so you default to a ponytail every day. If that sounds familiar, your hair is actually curlier than you think. Straight, flat hair is going to lay that way, but curly hair tends to go wild in all directions.

Without a comb, the curls take on a life of their own. Do you love to swim? Do you prefer to shower over a bath? If you allow your hair to drip dry and it starts to fan out in frizz, then there's a good chance you're a hidden curly girl. Curly hair will always return to its natural shape when it's wet, so you'll find the answer to your question about your curls easier to answer when you let your hair stay wet.
Static who?

Static clinging is a big deal for people with frizzy or curly hair

, and even if you've tried every static free product, there's a chance you'll still be dealing with frizzy hair. The frizz will always fight back if you're a curly girl, so if you are noticing that your hair is standing up against the static all the time, get yourself some curl-related products instead of a heated straighteners.

Straightening takes forever. If you are spending more and more time trying to straighten it and using more and more products, then there's every chance your hair does not want to be straight and it's fighting a losing battle.

Your usual products aren't doing the job. If you've been buying products for hair that is supposed to be straight in your eyes, then you're going to find them to be useless and you are wasting your money.

Curly hair requires a little more

than straight hair requires, and you need to get your curly girl method under control. Learning how to curl your hair naturally means not using heated products to do so, but a simple popping and wrapping method.
The best way to see what your changing hair wants to do on its own is to let it dry naturally without straightening or any heat and see what your hair does. Once you've determined the natural state of your hair, start looking after it properly. Also, can someone please teach me how to look after my hair properly?