Today is Valentine's Day and I don't care.
If today were Valentine's day circa 2005, my handsome fiance and I would be en route to a quaint cabin in the woods, complete with spa treatments, gourmet meals, AND a big picture window for me to watch the deer swing by for a visit. Doesn't get any better for a woman who loves her man, massages, stuffing her face, and animals.
Do I miss those days, that trip in particular? Sure. But I'm perfectly content with what today's V-day will bring: helping my son write his name on his Valentine cards and throwing together a festive treat a la Pinterest for his preschool party. And while my little guy is at school and his sister naps, I will kick my feet up, close my eyes, and continue the sexy dream I started last night. You should have seen me, guys. I was AH-mazing. My outfit, my control, the rush! I think I'm blushing!
Ladies, you understand, right? I mean, to be in a position where you have all the power! Erotic, right? Indulge me, then; let me play out my fantasy right here for you…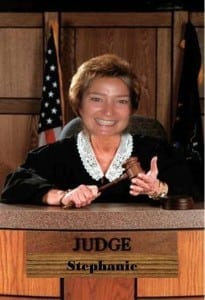 That's right kids: I am Judge Judy Stephanie and I run shit.
You are about to enter the courtroom of Judge Stephanie Jankowski – the people are real, the cases are real, and so are the PJs she's wearing underneath her robe. Stand up and bow down.
In my dream, I reside over cases where people refuse responsibility for their actions. They don't think before they speak. They're guilty of breaking and entering. They steal. They lie. They make messes and expect everyone else to clean up after them. They don't take direction. They lose sippy cups filled with milk and don't flinch when you discover them, weeks later, and hold back the vomit that's creeping up in your throat. You know who I'm talking about: toddlers.
And they're all on trial in my courtroom.
OH YES YOU WILL CLEAN UP ALL OF THOSE BLOCKS!
YOU'RE A POOR EXCUSE FOR A CRAYON ARTIST!
DID YOU OR DID YOU NOT JUST PUSH YOUR SISTER?
DON'T YOU LIE TO ME! I KNOW YOU FLUSHED 45 BABY WIPES AND CLOGGED THE TOILET!
THOSE WALLS DIDN'T DRAW ON THEMSELVES!
I'M COUNTING TO THREE AND THEN–THREE, DAMMIT!
GET YOUR HANDS OUT OF YOUR PANTS AND LOOK AT ME!
When he's not in time-out, BradyByrd will handle the swearing-ins and anyone who gets rowdy or, as my grandmother used to say, "lippy."
I'm not sure what Ella will do seeing as how she mostly just yells and throws tantrums. I think I'll put her in the sandbox with the really feisty defendants and watch as her refusal to share brings them to tears.
The cases are different, but the rulings the same: I'm awesome. And no one argues or disputes what I say. No one tells me NO. No one has selective hearing when I announce it's bedtime. Toys are in their bins, taking turns is a way of life, and the grandparents fight over who takes the kids for the weekend.
What? You were expecting another kind of fantasy because it's Valentine's Day? Come on, people–you know how I roll since having kids!
To those of you with visions of lingerie and bottles of wine dancing in your heads, piss off.
To those celebrating like me, Happy Heart Day!
Special shout-out to my work husband, Timbaland, for spit balling with me yesterday. Vent sessions are my favorite.