It was the winter of 2012. My almost-two and almost-four-year-olds were suffering from a bad case of cabin fever. It was too cold to head to the park, the snow too deep to let my littles frolic around outside. The girl would surely be lost in a drift and, if I'm being honest, I don't do cold.
So I did the next best thing. I took the day off and we headed to the mecca of children's fun: the mall. Our mall has an indoor playground, little houses and slides, and a place called Giggles and Smiles that consists of more plastic balls than should be legal. I'm talking ball pits, basketballs, kick balls, a huge ball with a hollow inside where the kids sit and are rolled around until they're dizzy.
Heaven.
My children were giddy. They chattered the whole drive there about how they would run and jump and have "so much fun!" They weren't disappointed when we got there, either: it was deserted! They had the run of the place. They were officially Mall Playground King and Queen. I remember thinking other parents must not love their kids as much as I love mine because where were they?! Probably working, unwilling to take the day off like I had. Huh. I'm a really good mom.
My daughter ran around like a little bird on crack, flapping her arms and squawking just because she could. She didn't have to wait her turn or be careful of the other kids; she was always first in line and she took center stage as often as she wanted. I mean that literally; there was a small stage and she kept hopping up to belt out the first half of Take Me Out to the Ballgame. It was adorable. MY KID WAS ADORABLE! And I was feeling like a really good mom.
The boy was more into the gadget wall. There were mirrors and toys that turned and clicked and rolled. He made so much noise and no one asked him to quiet down. He was in his glory, the novelty of not having to share was a dream come true. His big blue eyes met mine and he smiled. I knew what he was thinking: you're a re-wee good mom.
There I was, basking in the glow of being a really good mom, alternating between snapping pictures of my happy children and sipping my grande white chocolate mocha. Ahhh, this is so nice, I thought, my cold little heart warming with the above-freezing temperatures courtesy of the mall's stellar heating system. I hope my kids remember how nice today is.
The next day, the boy puked.
The day after that, the girl puked.
We were then stuck in the house for a solid two months, trading cold and flu germs, one bout of hand foot and mouth, and so much diarrhea.
This really good mom began to realize why the mall playground had been abandoned that day. Kids lick slides. They put their fingers in their mouths after scratching their own behinds, and they're constantly rubbing their eyes with hands that have caressed every last gadget on the friggin' toy wall. In the dead of winter, mall playgrounds are nothing more than a Petri dish of grossness. A germ haven. A place from which the experienced really good moms stay away because they're smarter than me.
I learned my lesson that day, and instead of my children remembering the fun we had, they have since and continue to regale our company with stories of "the day they both vomited."
So maybe that mall trip didn't necessarily make me a really good mom, but I was definitely a Good & Honest mom! Mott's has recently launched the Good & Honest campaign, celebrating parents everywhere who are doing the best they can every day for their kids. They're sharing ads like this to spotlight some of life's "parenting truths" to uplift Moms and Dads, to share a laugh and acknowledge we all improvise along the way. And to make me feel better for being a moron…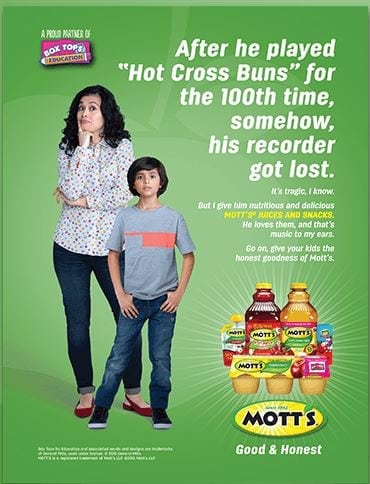 Be Good & Honest and WIN!
Share your Good & Honest moment in the comments, on my Facebook page, or tag me on Twitter for a chance to win a $50 gift card AND Mott's product. My kids love the strawberry applesauce pouches–they're yummy, healthy, and great for on the go snacking. The clean-up is minimal, which is what I like best. Oh yeah, the healthy part, too. I'll choose my favorite Good & Honest moment on April 30, so you have time to share the wealth: tell your friends, Mom, co-worker, uncle, and neighbor about the giveaway. Or, don't. More for you.
Disclosure: This post is brought to you by Mott's and The Motherhood. All opinions are my own.